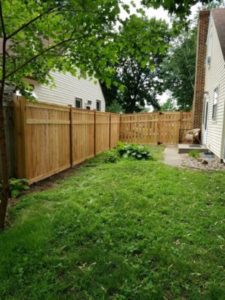 Spring is quickly approaching in Minnesota and you want your yard ready for the summer, and maybe you need a fence for your children. Maybe your family is debating on getting a dog and need to get a fenced repaired to prevent your new family member from running away. Fences are great not only to keep things in but also to keep unwanted things, creatures and people out. Twin Cities Fence is your fence contractor that is here to provide you with all and every fencing need you have.
Twin Cities Fence has been in operation for four generations and has been building fences for Andover, Minnesota and the surrounding twin cities community. We build fences from scratch and we also repair fences, gates and other commercial and residential fixtures throughout the cities. When you work with us, not only do you get speedy service, but you also get quality. We promise that once our job is complete, you will feel satisfied and our service will help take care of your property once we are done with the fix or installation. Whenever you need us for repairs or replacements, we'll be there.
When you work with Twin Cities Fence, we not only offer scheduled fence repairs, but also 24-hour emergency fence repairs. If you have an unexpected repair such as damage from a storm, and you need immediate repair we are here for you. Minnesota has harsh seasons, whether it is a warmer hail storm or if it is a snow storm during the long winter months, we are here for you. We understand the importance of privacy and also the necessity to keep animals in. If you're worried about your pets getting past a broken fence, or you don't want your business to look like it's not being taken care of, call us as soon as possible for 24-hour emergency fence repair service.
Scheduled Fence Repairs
At the beginning of seasons it is nice to have someone come look at the entire fence and make sure that the fence is in good shape. We know that repairs are an inevitable part of fencing and gate installation, and we have made repairs and replacements a large part of our services. When you are worried about the condition of your fence and want someone to come out examine your fence and make repairs we are the team that is here for you.
For a complete list of Twin Cities Fence installation and repair services, see our Home page and individual service pages, or feel free to contact us at 612-443-1948 or contact@tcfmn.com, or visit us at our Andover, Minnesota, location.