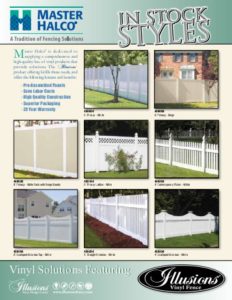 Are you looking for a reputable Fence Installation Company in Minnesota? At Twin Cities Fence we provide our customers with the fencing systems that you desire for your home! You dream it, and we can build it. Your fence will be made with the highest quality materials, and we can help you with small repairs, to commercial fencing projects, no job is either too small nor too big. We offer free estimates for repair and installation work and promise, 24-hour emergency repair service to home and business owners.
Many people think of wood for farm and ranch style fences. Although this is common, vinyl fencing can also give you that great look and is extremely durable. Although you may think wood is traditional and the best, there are a lot of great things about vinyl fencing. Vinyl is modern and longer lasting. It does not split and rot like wood, and can withstand storms far better than vinyl fencing can. Also, it is rust-free and is more flexible, therefore it does not break easily compared to wood and keeps its looks. For all these reasons, vinyl makes for exceptionally low-maintenance cattle fences, perfect for farms, where every day brings enough hard work already.
Although vinyl is a great option, the upfront cost of vinyl is more expensive than wood. This being said, it does last longer than wood and therefore it can save you a lot of money in the long run. Also, because overall it is a more expensive material, it is more expensive than wood to repair if it gets damaged from either a storm or from livestock. Although these may seem like disadvantages it is important to remember that this material is overall more durable and therefore harder to damage and longer lasting.
Twin Cities Fence is a fourth generation fence company offering commercial fence installation for Coon Rapids, Andover, Blaine, Anoka and Champlin. We only work with the best products in the business and all of our staff is thoroughly trained to guarantee only quality work. We also offer a 24-hour fence repair in case your fence gets damaged during a storm and you need to make sure that predators stay out and your cattle stays in. We not only repair fences but gates and other and other commercial and residential fixtures throughout the Twin Cities. Our main focus is installing and repairing fences and we build fences with a variety of materials, sizes, shapes and designs to ensure that we can meet all of your commercial fencing needs. Give us a call today and we can help create the best Vinyl fence for you!