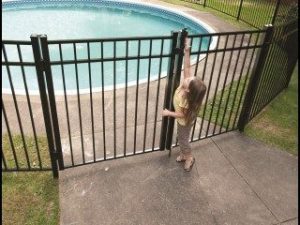 Do you have an existing fence that needs a gate added to the entryway of your property? Whether you are interested in a fence gate for your residential or commercial property in Blaine, MN, our team at Twin Cities Fence has you covered. This fence gate can provide elegance to your property while also protecting the property as well. Count on our fence experts to provide you the professional fence gate installation that you've been searching for and at an affordable price as well.  Serving the Blaine Minnesota and surrounding area.
The tricky part about installing a fence gate on an existing fence is that it can be difficult to match the existing fence. As 4th generation fence professionals, we have the experience, knowledge and tools to create the perfect match for your fence system. The fence gate is the missing piece of your fence system to bring it all together. We can install a fence gate and match several fence materials, such as:
● Vinyl Fencing
● Aluminum Fencing
● Steel Ornamental Fencing
● Wooden Fencing
● Galvanized Steel Fencing
● Color-Coated Chain Link Fencing
Roller Gate And Swing Gate Options
Depending on the size of your existing fence and the distance needed to enclose, you'll need to choose between a roller gate or a swing gate. For large fences or commercial properties looking for extended security, a roller gate is usually preferred because they are tough to climb and can cover a lot of space. For smaller properties looking to utilize a fence gate to enclose a backyard, play area or small side entrance, a swing gate is just the option for you.
Fence Gates For Residential And Commercial Properties
At Twin Cities Fence, we've provided professional fence gate installation services to both residential and commercial properties around Blaine, MN. These fence gates will help keep your equipment and belongings safe and secure from intruders. It will also help designate residential or commercial property lines, add curb appeal, boost your property value, and much more.
Free Fence Gate Estimate
To help you get a true picture around the cost of this project, our dedicated staff is proud to offer a free fence gate estimate. With this estimate, we will break down all of the expected costs and there are not any hidden charges. This is a no obligation estimate, so if you decide now is not the right time to pursue this project, we are totally fine with your decision.
Specializing in professional fence gate installation, let our team at Twin Cities Fence handle your fence gate needs in the near future. To request a free fence gate estimate for your Blaine, MN residential or commercial property, give us a call today at (612) 443-1948.