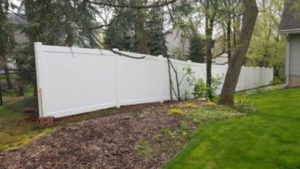 As warmer temperatures finally arrive after a long, cold winter, we all turn our attention to spending more time outdoors. Spring and summer in Minnesota are the best times of years to enjoy being outside. If you are looking for some privacy on your own property so that your kids can play, your pets can wander, and so that you can host family and friends for cookouts and gatherings, you may want to consider adding a privacy fence to your property this year. Twin Cities Fence can design and install an affordable and visually appealing privacy fence for your home or business in the Forest Lake, Stacy, Circle Pines or Lino Lakes, MN area.
Benefits of Vinyl Privacy Fences
When you look around the area, you may notice many privacy fences are made of wood. Wood fences are popular, and they are beautiful, but they are not made of the only material that can be used for a privacy fence. Vinyl privacy fences have become an extremely popular option over the last decade, as they can serve the same primary function and are much less expensive. In addition, vinyl fences are a bit more durable and will not warp, rot, corrode, or rust. Vinyl fences will last for many years and provide you with privacy, shade, less noise, and keep your kids and pets safe on your property. You may be surprised to learn that there are many design options for vinyl privacy fences.
Vinyl fencing is a great option that complements the design and look of modern or contemporary residents and businesses. Vinyl can withstand all that the Minnesota weather can dish out — snow, sleet, thunderstorms, and more. Vinyl fences are built to last and require very little maintenance. They are great for both residential and commercial needs and, in addition to vinyl privacy fence options, you can also choose a vinyl contemporary fence, or an ornamental vinyl fence.
Trusted Fence Company, MN
The team at Twin Cities Fence has been installing and repairing fences in the Forest Lake, Stacy, Circle Pines and Lino Lakes, MN area for more than 40 years. We understand that you likely have a specific vision for your fence and we will work with you to design the perfect fence for your property. We specialize in installing all types of fencing, including vinyl privacy fences. For more information or to get an estimate, call us today at 612-443-1948.