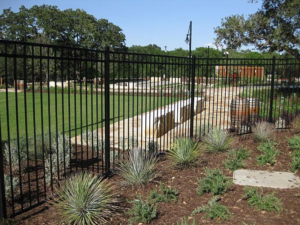 If you asked us about twenty years ago which fence would be the most popular, most people around Forest Lake, Stacy, Circle Pines, or Lino Lakes, MN would say that it's the wrought iron fence. While the wrought iron fence is a beautiful choice and style, it's expensive and honestly, it's just not durable. If you are still looking for that classic look but wanting today's technological advancements and improvements in material, Twin Cities Fence has got you covered. We now install aluminum ornamental fences, giving you that look and style of a wrought iron fence, but the lasting strength and durability of aluminum!
The Longevity of Aluminum
Aluminum is such a versatile material and can basically be conformed into many different types of fencing options for you. The "wrought iron look" is still a popular choice and style for this area but with fickle Minnesota weather, it is clearly not a good choice. Iron rusts and will not last you for very many years. By choosing an aluminum ornamental fence, you are choosing something that will meet the weathering demands of Minnesota and still offers an attractive, classic finish. Whether you own a commercial or residential property, aluminum fences can protect property lines, keep kids and pets within those lines, protect and restrict unwanted guests, and define pathways around the property. It is the perfect choice of fence that requires no maintenance, meaning it will not rust, warp or fade in the sun.
Customize Your Ornamental Fence
The best part of having an ornamental aluminum fence is making it your own. Twin Cities Fence offers numerous designs and styles that can draw major attention to your property or just blend it all in. We can put spear or staggered spear tops on your fence, or give it a universal flat top. We even offer picket style fencing. Whatever your needs, we can accommodate it for you and make it the fence that you've always wanted.
If you are interested in an aluminum ornamental fence in the Forest Lake, Stacy, Circle Pines, or Lino Lakes, MN areas, don't wait another second. Get the fence you've always dreamed of at an affordable price and give Twin Cities Fence a call today! With over four generations of fence installation experience, we should be your first choice