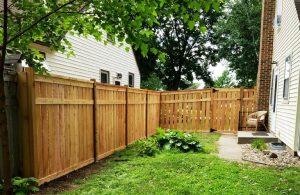 Nosey neighbors? Promiscuous dogs? Loud kids? Awkward property lines? No matter what your reasoning may be for wanting a privacy fence, our professionals at Twin Cities Fence can help you find and install the right privacy fence that is perfect for all of your functional and aesthetic needs. If you are looking for quality privacy fence installation in Minnesota, look no further than our experts here at Twin Cities Fence.
Choosing a Privacy Fence
At Twin Cities Fence, we have a vast amount of knowledge on all types of fences. We specialize in providing quality fencing installations that meet every residential or commercial property owner's need. If you are looking for a fence but aren't quite sure what type of fence is right for you, the best place to start is by simply talking to one of our friendly professionals. Privacy fences add a nice layer of privacy for both residential and commercial properties. It obviously offers privacy but can provide so many other functional benefits. Privacy fences aim to reduce noise, add additional shade, delineate lines, add a greater line of defense for your property, and keep children and smaller animals inside your property. They are a great choice for many properties and often the harder decision becomes what type of material to choose.
Classic Wooden Privacy Fence
A wooden privacy fence is what most people think of when they imagine a privacy fence. These fences are hard to climb, beautifully crafted and while still providing privacy, the space between the fence rails still allows a fair amount of airflow. It is a popular choice among many who desire the classic look of a privacy fence.
Vinyl Privacy Fence
Vinyl has become a more popular privacy fencing choice for many landowners over the years. It comes in a variety of shapes and sizes to completely match any type of home. Our line of vinyl fencing is made specifically with PVC. A PVC privacy fence means that you no longer have to worry about warping, rotting, corroding, rusting or breaking down due to age. It is sturdy and long lasting. What more could you want from a fence?
Chain Link Fences
If you are searching for a more economical choice, the chain link fence with an added privacy screen can be a viable option. While it does not reduce noise, the added tinted screens will still provide a quality source of shade, denote property lines and provide an added layer of security for your property.
Whatever option you may choose, having a quality installation team that does the work with quality, integrity and honesty is your best choice. At Twin Cities Fence, we are proud to be that company. For more information about privacy fence installation in Minnesota, give Twin Cities Fence a call today at 612-443-1948 or send us an email at contact@tcfmn.com.