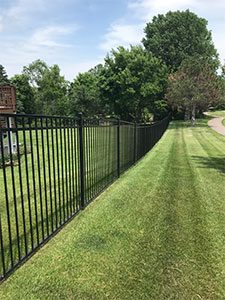 Your home is your most sizable investment. It's a place where you share laughs, connect with your family, relax and raise your family. Adding a fence to your property can make you feel more secure, protecting your property as well as your children and pets. Ornamental fencing is a very popular option for homes in the Minnesota area and there is no better company to partner with for fence installation than Twin Cities Fence. We offer a wide variety of fencing options that will meet your needs, accentuate your property and provide an extra layer of security that you are looking for.
Aluminum Ornamental Fencing
One of the main benefits of aluminum fencing is its strength and durability. Aluminum does not rust like wrought iron fencing and can last for many years with very little maintenance. Aluminum stands up well in the Minnesota elements and is a very affordable option for fencing solutions. Aluminum ornamental fencing adds a decorative look to your home, giving you the look of a strong black wrought iron fence without the headaches. You have many style options with aluminum fencing, and you can choose to stand out as much or as little as you would like.
Ornamental Vinyl Fencing
Vinyl ornamental fencing is another great option if you are going for the beautiful, distinctive and contemporary look of a wood picket fence again, without the costly maintenance that comes from replacing rotten wood. Vinyl fences do not rust and adding a unique gate and post caps can make your fence stand out in your neighborhood. Vinyl fencing is also a great investment in your property because it is affordable, strong and durable. One thing to keep in mind with ornamental fencing is that it generally does not provide extensive privacy if that is what you are looking for.
Fence Installation Process in Twin Cities, MN
Twin Cities Fence has been completing professional fence installation for four generations. We will install a fence to fit your specific property's size and shape. Our team can help you choose the perfect fence material for your needs and your budget. Our crew is professional, prompt and will communicate clearly with you about all of your options, the costs and the timeline. We also stand behind our work and guarantee your satisfaction with your fence. We are a local Minnesota company that relies on customer referrals and repeat customers, so we work extra hard to make sure that you are happy with our work. For more information or to speak with a member of our installation team, call us at 612-443-1948.