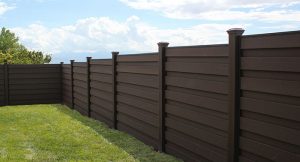 In a day and age where homes are being built closer and closer together, it's important to still feel like you have a space of your own. At Twin Cities Fence, we are your local privacy fence installation professionals that can finally give you that space that you need. If you are considering a fence in the Twin Cities, consider one of our quality privacy fencing systems at Twin Cities Fence.
The Purpose of the Privacy Fence
Privacy fence systems have been around for years. Whether home or business owners were trying to gain that private space or just keep their kids and pets in their yard, most people have seen a privacy fence. Privacy fences have a lot of uses. First and foremost, they keep your space private and hidden away from wandering eyes or unwanted intruders. Not only does it protect your property in a social manner, it can also help with the noise too! Whether you are keeping the noise out from your space or trying to prevent the noise from escaping through the entire neighborhood, privacy fences have been known to reduce the noise factor tremendously. Additionally, privacy fences delineate property lines, enclose your children and pets, and can give you a nice shade from the sun depending on the time of day. They are well utilized no matter what type of property you may live on.
Privacy Fencing Material
At Twin Cities Fence, we provide privacy fence installations with a variety of materials. This includes the following:
Privacy Wooden Fences – The most classic privacy fence we install is your timeless wood fence. Privacy wooden fences are tall and almost impossible to climb, keeping you safe and secure. They can be customized to your preferred height and can come in whatever decorative design you may choose. Whether you want to keep your pattern tightly locked or allow some space between each fence rail to allow for airflow, we can help you find the right style and functionality that fits your needs.
Privacy Vinyl Fences – The vinyl privacy fence can look almost identical to the wood privacy fence however, our vinyl will not warp, rot or corrode like wood will do if maintenance is not properly performed. In fact, vinyl fencing requires little to no maintenance at all. All you have to do is pick your color and design and let our installation team get to work!
Privacy Chain Link Fences – A more affordable option for those looking for more sole functionality would be a chain link fence with an added privacy screen. Our chain link fences are durable and our tinted screens are made with polyethylene that holds up in even the worst of weather. This option comes in a variety of colors to match your property.
No matter what type of privacy fence you may choose, Twin Cities Fence can help you with the entire process from start to finish. If you are searching for a quality privacy fence installation team in Minnesota, call Twin Cities Fence today at 612-443-1948.