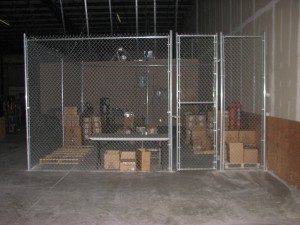 At Twin Cities Fence, we pride ourselves in being connoisseurs of all fencing types. Indoor fencing is a little unique and can be tricky. The grounding method is obviously different then it would be outdoors and therefore the way installation is done can be a big change. At Twin Cities Fence, we like to do it right the first time around. Our customer's satisfaction is always the number one priority. So if you are looking for an indoor fencing system for your residential, commercial or municipal property, our trusted professionals here at Twin Cities Fence has you covered.
Why Indoor Fences?
Indoor fences provide a multitude of functionality for many different reasons. For commercial properties or factories that may have dangerous spaces or restricted areas, a fence is a necessity in the workspace. For organizational purposes at larger companies or storage facilities, fences can delineate areas and provide security. Obviously, fences are great options for places that offer animal or pet sitting services like kennels or vet offices. Indoor fences are also well utilized in hotels, indoor swimming pools, gymnasiums, and other indoor sports court areas.
Types of Indoor Fences
Just because you need an indoor fence does not limit your options when it comes to aesthetics and designs. Like many of our outdoor fencing options, we offer to install a variety of different indoor fencing materials to suit your needs. Chain link fencing seems to be a common fencing option for many of our commercial and municipal properties. Whether you choose galvanized steel or our colored PVC coated chain link fence, you cannot go wrong. Steel fencing also is popular among spaces where you'd like a modern feel while also feeling secure. Just like the outdoors, we also offer wood and Trex fencing, giving you a beautiful aesthetically pleasing fencing option while also maintaining functionality. Vinyl fences are also a popular favorite as they can be made more decorative but still get the job done. No matter what type of indoor fencing material you choose, Twin Cities Fence should be your only choice for installation.
At Twin Cities Fence, we are proud to be an indoor fence installation company that ensures our client's satisfaction from start to finish. If you are thinking about an indoor fence for your property, call us today for a free estimate. Let us talk with you and help you choose which indoor fence option is the right choice for you. For more information about our indoor fence installation services in the Twin Cities, give us a call today at 612-443-1948 or send us an email at contact@tcfmn.com.