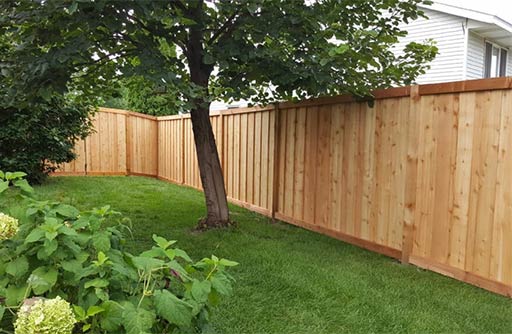 As the year 2020 continues and the majority of our lives takes place at home, you may begin to notice certain things you want to change. Whether we are looking for a more structured place to play outside for the kids or you simply desire more privacy within your own backyard, Twin Cities Fence can help. We offer privacy fence installation for anyone looking for that much needed separation from the noise and lurking eyes. If you have been searching for the proper solution for your backyard, a privacy fence is an excellent choice.
Benefits of Installing Privacy Fencing
No matter what type of material option you may choose, privacy fences play a large role in helping you protect your property and giving you privacy. Every type of privacy fence will provide some sort of noise reduction, create additional shade for your property and give your property that much desired protection and privacy. Depending on the type of material you choose, privacy fences can aid in much more. For instance, privacy wood fences allow for that classic, aesthetic design. Privacy wood fences are typically very tall and extremely difficult to climb. While noise reduction is a plus for every privacy fence, noise reduction is greatly noticed with privacy wood fencing. Vinyl privacy fencing systems are the most common and are slightly more durable than wood fences. A major benefit of vinyl fencing would be how little maintenance it comes with. While not as versatile as wood, the lack of upkeep needed on vinyl fencing makes up for it. For a more cost-efficient solution for a privacy fence, the fence can be a chain link fence with added privacy screens. These tinted screens will add a layer of protection to the typical see through standard chain link fence. While it may not be as noise reducing, the price of a chain link fence with added privacy screens can save you lots.
Quality Fence Installation Services
No matter which type of material you may choose for your privacy fence, Twin Cities Fence is here to help. We handle everything from start to finish and work until the job is done. Our team of professionals specialize in fencing installation and repairs and aim to provide you with quality that you can count on. We are open all year long and offer 24-hour emergency fencing repairs should anything less than ideal happen.
For more information about our privacy fence options here in Minnesota, give us a call today. Contact Twin Cities Fence today at (612) 443-1948.