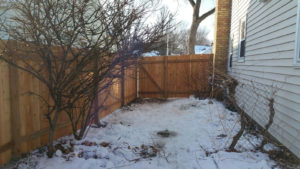 At Twin Cities Fence, we often get the question from clients asking when is the best time of year to install a fence in Minnesota? You may get different answers depending on which fencing contractor in Minnesota that you ask, but at Twin Cities Fence, our answer is simple. If you choose us as your residential or commercial fence installation contractor, you can get your fence installed year round. There's no off season for our staff and we take pride in offering year round service to all of our clients in Minnesota, even during the winter!
Winter Installs are an Option
The brisk temperatures and winter weather that hits the state of Minnesota during the winter does not keep our fencing professionals from working on your install. We are happy to offer our clients the option of a winter fence install. What good is waiting until the winter season ends if your residential or commercial property is in need of a fence? Maybe you need to get a fence installed to secure some commercial equipment. Could it be that you'd prefer to get the fence installed around your pool during the winter so that your property is ready to go during the spring and summer? Whatever reason it may be for you to need to install a fence during the winter, our team at Twin Cities Fence has you covered.
Year Round Service
When it comes to a partnership with Twin Cities Fence, there is not a specific time of year that is best for you to install a fence. Customer service is one of our core focus areas that we continuously try to improve upon. Our customers are what keep us in business, so we feel that it is necessary to go the extra mile and offer year round fencing install services to our Minnesota clients. So, regardless of the time of year that you're looking to get your fence installed, Twin Cities Fence will get your project completed in a timely manner. That is one key aspect of our business model that sets us apart from the other fencing competition in Minnesota.
Complimentary Estimates
If you are interested in finding out more about our affordable residential or commercial fence install options at Twin Cities Fence, we make it extremely easy for you. Year round, we offer free estimates on your fence installation needs. There are no hidden costs with our prices and this estimate will provide you with a cost estimate upfront to help you determine if a new fence is in the cards for you.
By teaming up with Twin Cities Fence for your fencing install needs, this makes the answer to when the best time of year to install a fence a simple one. Thanks to our dedicated team and year round service, it doesn't matter what time of year you decide on. Even during the winter! If you are in Minnesota, give our fencing professionals a call today at (612) 443-1948 to set up a free estimate on your residential or commercial fencing install needs.