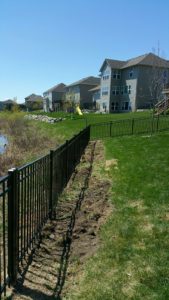 If you drive down any neighborhood street in Andover, you can likely pick out the fences that have been installed by homeowners versus those installed by a reputable fence installation contractor like Twin Cities Fence. While you may think that you can tackle a fence installation project on your own, you may be underwhelmed with the results after you're finished. Installing fences is truly an art and is something that can only be mastered with years of practice. Thankfully, the fence installers at Twin Cities Fence have decades of experience installing all types of fences for residents and business owners in the area. Regardless of the type of fence you need, we'll be more than happy to provide a free estimate.
Why Hire a Fence Installation Contractor?
Installing a fence is easy, right? Go buy some wood, dig some holes and build your fence! Sounds easy enough!?! Well, while these are the general steps you would use to install a fence in your yard, or commercial property, the reality is that these steps can be quite difficult. Many homeowners don't have the proper tools or patience to properly install a fence.
By hiring a reputable fence contractor, you can be sure that your fence will look perfect. Too often homeowners doing DIY projects will cut corners and end up with a finished product that isn't all that attractive. At Twin Cities Fence, we're big fans of DIY project around the house, but we feel confident that you won't be sorry if you hire our team of reputable fence contractors to install your fence.
In addition to the superior finished product, imagine the amount of time you can save by hiring a fence company to install your fence. Enjoy your weekends and don't take on a project that may be much bigger than you think.
Wide Array of Fence Options
By working with a fencing installation contractor, you also open yourself up to all types of fence styles and materials. A few of our most popular types of fences include:
• Privacy Fences
• Farm Fences
• Wood and Vinyl Picket Fences
• Chain Link Fences
• Aluminum and Steel Ornamental Fences
Get a Quote Today From Twin Cities Fence
Before you decide to install a fence yourself, at least give the team at Twin Cities Fence a chance to provide you with a free estimate. You may be surprised with how affordable a new fence can actually be. Give our office a call today at 612-443-1948 to schedule an appointment with one of our experienced estimators.