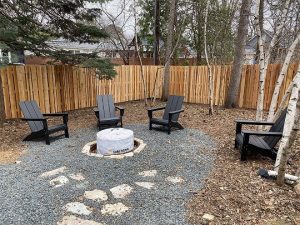 If you have been thinking about adding a fence to your residential or commercial property but are concerned about the potential cost, the team at Twin Cities Fence can help. We offer free estimates for our clients who are considering a new fence installation project. The estimate is built specifically for your needs, and your property and we make every effort to take your budget into account when we build the estimate. Our ultimate goal is to design the fence that meets your needs. We understand that your budget is a big piece of the puzzle, so we work hard to understand exactly what you are looking for and make the best possible recommendations to meet those needs.
Free Fence Installation Estimates
We offer a wide variety of fencing materials and can explain the pros and cons for each material in detail when we meet. Many of the most popular and affordable fencing options include:
Vinyl Fences: Vinyl fences are a great option for the Minnesota area because they are durable, strong and require very little maintenance. Vinyl can withstand all of the harsh Minnesota weather year after year. So, when you have a vinyl fence installed, you do not have to worry much about future costs like repair and replacement. Vinyl fences can come in many forms, including a vinyl picket fence, an ornamental fence and privacy fences to add the aesthetic and functionality you are looking for to your home or business.
Chain Link Fencing: You likely will see a chain link fence every time you make even a short drive. Chain link fences are ideal for backyards, businesses. We can install chain link fences in both galvanized steel and color coating and the look can be customized to your property. Chain link fences are also ideal for the Minnesota weather. They are strong and durable and will withstand the snow, hail, ice, sunlight and wind that Minnesota weather brings.
Trex Fencing: Twin Cities Fence is also a Trex fence installer. The major benefit of trex fencing is that it is a very strong investment and will last for more than 25 years without problem on your property (residential or commercial). Trex fencing will also withstand the weather with very little maintenance needs and investment over time. All you need to do is power wash your fence to keep it clean!
Fence Installation Contractors In Minnesota Metro Area
No matter what look you are going for, the contractors at Twin Cities Fence can help you choose the right fence for your property and your budget. With a free estimate, you will not have to worry about a surprise charge. Give us a call at 612-443-1948 for more information.