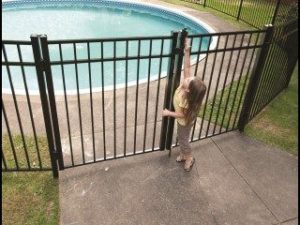 Not only is having a fence around a pool a safety feature that protects and keeps small children safe, it's also a law. If you own a pool in Minnetonka and Wayzata, you are required to have a fence around it. While it is a law, there aren't too many people that argue it. Fences are a great way to provide safety and security while also giving it your own kind of flair. If you are in Minnetonka or Wayzata and you are looking for a fence to go around your pool, consider an ornamental fence from Twin Cities Fence.
Ornamental Aluminum Fencing
About 30 years ago, you could likely find wrought iron fences around pool areas, or even your basic chain fence. The problem with those is that neither of them are as secure and durable as the beautiful ornamental fencing. Aluminum fences are extremely versatile in their styling and are also extremely functional. While little feet can climb up and over a chain fence, there's no little feet hopping over an ornamental aluminum fence. Our ornamental fences give you the look and feel of a beautiful wrought iron fence while keeping the integrity and durability of aluminum. It is the perfect choice for any pool fencing.
Design vs. Durability
Does it really have to be one or the other? Why should you have to choose whether or not to sacrifice safety for style? Our ornamental fences can be flared up and catch the attention of onlookers with their extravagant appearance. They can always be toned down, blending in with your property. Whatever your preference, we can make it happen for you. We offer spear tops, staggered spear tops, universal flat tops, universal spear tops, and picket style ornamental fencing. With so much style and selection to choose from, how can you not get excited? However, just because our fences have style does not mean they lack in durability. Ornamental fencing serves a very functional purpose around a pool. Its bars are small enough to not let any small humans through its spaces and yet large enough that you don't have to be within the pool to see what's going on. It's the perfect way to secure your property and keep it safe. Additionally, it also keeps larger animals out as well. No random animals will be dipping into your pool any time soon!
For more information about ornamental fences for pools in Minnetonka and Wayzata, give Twin Cities Fence a call today. For further inquiries, contact us at 612-443-1948 or send us an email at contact@tcfmn.com.