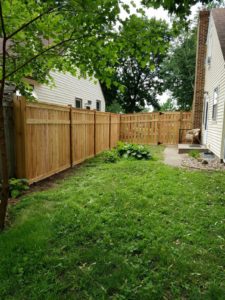 Fences are a great investment for many reasons. As a lot of homeowners have pets and children fences are a great investment to keep what you want in your yard and to keep the things out of your yard that you do not want. As fences come in hand no matter how far or near your neighbors are for these reasons, when you have closer neighbors you may even want to invest in a fence for privacy reasons.
Privacy fences are a great way to allow you to feel like you are in your own space no matter how close the house next door. Privacy fences are great because they are appealing to the eye, can add great character to the house and serve so many different purposes.
If you are living in Blaine, Andover, Anoka, Coon Rapids, Forest Lake, Circle Pines, Stacy and are looking for a reputable company that builds, installs, and maintains fences then Twin Cities Fence is here for you.
We have many different types of fence that can allow to customize it and make it your own. Although most of your neighbors may have wooden fences, you may prefer a vinyl privacy fence, also if you do not like either one, a chain link fence can be paired with decorative polyethylene slats to add a tinted layer of protection to your otherwise see-through fence.This option is affordable for your home or business, and if you already have a chain link fence and you are looking for that extra step, instead of having to replace your fence you can add the polyethylene slats to get the multi-functioning fence that you have always wanted.
Whatever privacy fencing system you choose to suit your home or business, be sure that you have carefully weighed your options to choose what is right for you. Each material has not only a different look but a different function and a different price point. No matter what privacy fence works best for you, we are the ones that you can install it for you, you can look forward to noise reduction, additional shade, and greater protection for your property.
If you are looking for a reputable fence company in Blaine, Andover, Anoka, Coon Rapids, Forest Lake, Circle Pines, Stacy, then Twin Cities fence is the right choice for you! With our years of experience, hardworking team and great reputation, we know our fences and know how to keep our customers happy so give us a call today and we can help build the right privacy fence for you!