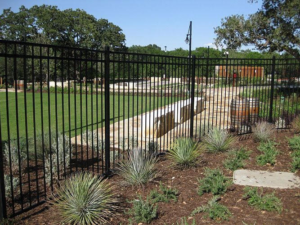 Looking for a quality ornamental aluminum fence installer in Blaine, Coon Rapids, or Andover, MN? The first and only place you should check is at Twin Cities Fence. No matter if you are a residential or commercial property owner, an ornamental aluminum fence is a thing of beauty. At Twin Cities Fence, we have over four generations of experience in building and installing ornamental aluminum fences. We pride ourselves in professional-grade installation and reliable service.
Why an Ornamental Aluminum Fence?
If you are still undecided about your fence type or style, let our professionals at Twin Cities Fence walk you through the decision making process. Wrought iron fences were extremely popular last century. Their classic appearance made them an ideal solution. However, wrought iron was not very durable and was known for breaking down. Aluminum is a type of material that is built to be strong, durable, and essentially maintenance free. These qualities make it perfect for both commercial and residential use. Not only is it more durable than wrought iron, it's also a more affordable alternative. Ultimately, it will last longer and cost less. Who doesn't love that?
Customizing Your Ornamental Aluminum Fence
One of the best parts about having a quality ornamental aluminum fence installer is the ability to diversify your fence. We will listen to your needs and help you choose the right ornamental aluminum fence that's perfect for your property. For residential owners, many use their fence to add character to their home while also protecting and defining property lines, enclosing children or small pets, or even keeping a pool or garden enclosed. Commercial properties often use these fences to block off or limit restricted areas, parking lots, and define property lines. Not only are they aesthetically pleasing, but they are quite functional. When you choose Twin Cities Fence, we will talk with you about both your functionality needs as well as your cosmetic wants. We offer universal spear top styles, staggered spear tops, flat tops, and all the designs in between.
At Twin Cities Fence, we are experts in our field. We have installed hundreds of fences in the Blaine, Coon Rapids, and Andover, MN areas. When you choose Twin Cities Fence, you are choosing a company that has been around the block a time or two. We are so confident in our quality work, reliable service, and affordable pricing that we offer free estimates and designs to all of our customers. For more information about a reliable ornamental aluminum fence installer near you, give us a call today at (612) 443-1948.