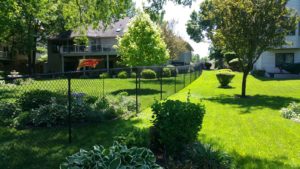 Looking online for a fencing contractor can be as painful as trying to choose the perfect restaurant on the weekend. You're not sure what exactly you're looking for, you don't want to pick something over-priced, but you also don't want to end up paying for something that just isn't good enough. We understand the dilemma. Fencing contractors – and any property improvement companies – can be difficult to evaluate online. You can read reviews, look at pricing, search for well-known names, and still have no idea which company might be right for you. At Twin Cities Fence, we want to help make your decision easier by assuring you that we provide high-quality fencing installation, maintenance, and repair services at an affordable and reasonable price. With us, you'll find the best fence prices in the Northlands, and you won't have to worry about being over-charged or ending up with low-quality fencing. Instead, you can count on the expertise of a fencing company with four generations of contractors who have years of experience installing affordable and durable fencing systems in Minnesota.
How Do We Provide Affordable, High-Quality Fencing Systems?
One of the things that sets our fencing contractors apart from the rest is that we don't specialize in building one type of fencing system or another; we specialize in building a range of fencing systems with a list of materials. We're experts in designing well-made and beautifully designed fences using wood, vinyl, chain link fencing, aluminum, and steel, ensuring that our clients aren't limited in their selection. This also ensures that we aren't forced to increase prices in order to make up for a niche market; we can serve anyone with any fencing needs, allowing us to keep our prices low without sacrificing the quality of work we perform!
Choosing Affordable Fencing Materials
Part of what goes into making fencing affordable is offering affordable fencing materials. While not every fencing system will cost the same, there are ways to ensure you get the best fence for your budget. To do that, consider your reasons for installing a fencing system on your property. For many of our clients, the uses for fences typically include:
• Privacy fences for residential properties to keep sound pollution low and create shade
• Privacy fences for commercial properties to limit access to certain areas, especially "employees only" spaces
• Delineate property lines
• Create pathways along a property
• Add security to a residential property to keep children or animals safe in a yard
• Secure a commercial property with a fencing system designed to prevent climbing or easy entry
Once you know what purpose your fencing system will serve, it will make choosing the most useful fencing material simple, and you might find that you don't need the most expensive material out there – just the right material for your needs! At Twin Cities Fence, our Minnesota fencing contractors will help you choose the most affordable, reliable, and long-lasting fencing system in the Northlands, ensuring that whatever weather or wear it sees, you'll always know you chose the best fence for the best price. Call us today at 612-443-1948, and get a free estimate for your fencing system.