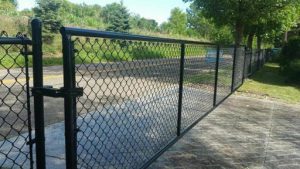 Are you looking for a way to separate your property from your neighbors or from another business beside you? Well, investing in a fence for your property makes sense. Deciding on what type of fence is right for your residential or commercial property isn't as easy as it may seem. At Twin Cities Fence, one of our most popular and longest lasting fence options that many of our MN customers choose is a residential or commercial chain link fence.
Reasons to go with a Chain Link Fence
If you drive around the MN area, you'll likely see more chain link fences than any other style. There are lots of reasons why you see this style fence all around. First, chain link fences are very affordable. Additionally, they are durable and built to last. MN weather can be tough on fences, but no need to worry as our chain link fences can withstand the cold temperatures and bright sunlight. Another reason to go with a chain link fence is that they are virtually maintenance free. So, you definitely get your money's worth when choosing a residential or commercial chain link fence for your property.
Color Coated Options
Did you know that you've even got color coated options when it comes to your residential or commercial chain link fence? That's right! Choose from our galvanized, black, green or brown chain link fence color options.
Top Notch Security
Chain link fences are great at adding in extra security around your property. When it comes to your home, a potential intruder may decide to go to another house once they realize they have to deal with your chain link fence. As commercial business owners, you probably have a lot of valuable equipment and items on your property that you'd like to keep secure. Our durable chain link fence is the top-notch security addition that your property needs.
Complimentary Chain Link Fence Estimate
At Twin Cities Fence, we want you to be totally comfortable with your residential or commercial chain link fence investment. To help make this a smooth decision for you, we offer our clients a complementary chain link fence estimate. With this estimate, you're able to get a detailed breakdown of the estimated costs around your new fence. You've got nothing to lose by requesting a free estimate from our team.
So, if you are ready to invest in a chain link fence for your residential or commercial property in MN, Twin Cities Fence is the perfect partner for you. To learn more about our chain link fence options or to request a complimentary estimate today, give us a call at (612) 443-1948.