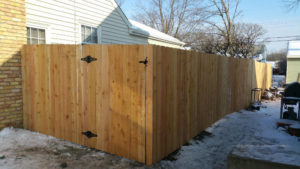 Living in Minnetonka or Plymouth, MN, we are accustomed to bitterly cold temperatures during the winter months. To live here in Minnesota, you've got to be made for this weather and made for the snow! At Twin Cities Fence, we never let a little cold weather slow us down! We are your Minnetonka winter fence installation professionals that can install any fence that you need, no matter what time of year it is.
Winter Fence Installation Company
As a locally owned and operated company, we pride ourselves in knowing all the ins and outs of fencing installation. We are familiar with a variety of materials, sizes, and styles and can give valuable advice when it comes to choosing the right fence for your property. We work with both residential and commercial owners and are known as your most reliable winter fence installation company. With over four generations of experience under our belts, we can give you quality work with quality material that's made to endure even the coldest of winter months, making it Minnesota tough.
Fencing Types
Different materials and styles of fencing can serve different purposes. Fortunately, the functionality of a fence doesn't mean you have to sacrifice the quality.. All of our fences can be made to look aesthetically pleasing to the eye while still performing their functional duties. We offer the following types of fencing materials in many different styles:
Vinyl
Cedar Wood
Galvanized Steel Chain Link
Color-Coated Chain Link
Steel Ornamental
Aluminum Ornamental
Residential And Commercial Fences
All of these material options serve different functions and can be used in a variety of ways. Privacy fences, picket fences, post and rail style fences, chain link fences, and ornamental fences are just some of the many style options that people choose to have on their property. Whether you are a residential or commercial property owner, let us know your needs and the ideas you have in mind and we can help you pick out the perfect material and style that's right for you and your budget.
Best Fencing Contractor
So, if you live in Minnetonka or Plymouth, MN and you are ready to have your residential or commercial fence installed, don't feel like you need to wait until it gets warmer. At Twin Cities Fence, we will get to work no matter how cold it is outside. After all, we are Minnesota tough, just like our fences. For more information about Twin Cities Fence and Minnetonka or Plymouth, MN winter fence installation, give us a call today at 612-443-1948.