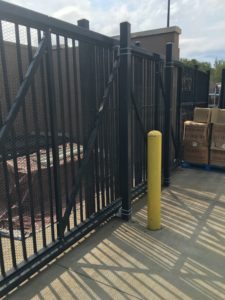 Installing a fence on your business property can be an expensive and extensive undertaking depending upon the materials used, the size of your fencing system and, most importantly, the fencing installation company you hire to get the work done. At Twin Cities Fence, we want to be the commercial fencing installation company that can install your fence when you want at an affordable price, making sure that the only thing you have to worry about is your choice of fencing materials and styles. If you're looking for an Andover, Ham Lake, or Coon Rapids commercial fence installation company, look no further than Twin Cities Fence!
Wooden Fencing for Businesses
For many businesses, commercial wood fences are the perfect way to provide security, privacy, and aesthetic to a business property. While some properties may benefit from a simple split rail fence that outlines the property or creates walkways, others may require a wood privacy fence that will keep limited access areas restricted to employees or guests only. You may even find that your business property would benefit aesthetically from a secure picket fence, often used to make a business more inviting.
Commercial Chain Link Fencing
If you're looking for a low-maintenance commercial fencing system, chain link fences may be what you need. Our galvanized steel chain link fences are durable and weather-resistant, and they're a popular choice for commercial and municipal properties looking for added security. If you're looking to keep trespassers out of restricted areas and clearly outline your property, a chain link fence will allow you to do just that. You can also invest in a colored PVC chain link fence, which will provide extra protection for your fence and give you colorful options to accent your property.
Ornamental Commercial Vinyl Fences
With commercial vinyl fencing, like wood fences, you are able to have a functional and aesthetically pleasing fencing system that will add to the design of your property while providing you with the security and functionality you need. Whether you're in need of a vinyl privacy fence, picket fence, or vinyl post and rail fencing system, our vinyl fencing could be just what you're looking for on your business property.
Commercial Decorative Aluminum and Steel Fencing
If you're looking for a modern take on classic wrought iron, aluminum or steel ornamental fencing are perfect fencing systems for security and aesthetic appeal. Often used to outline properties with limited access, steel and aluminum fences have the benefit of looking sharp and professional while sending a clear message that your property is off limits to anyone who isn't a customer or client.
If you're looking for a Coon Rapids, Andover, or Ham Lake, Minnesota commercial fence installation company to install a commercial fencing system on your property, Twin Cities Fence is the perfect solution. With experience installing each of these fencing systems, we can offer you exactly the fence you're looking for. Just call us today at 612-443-1948!