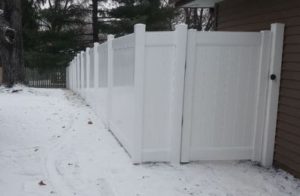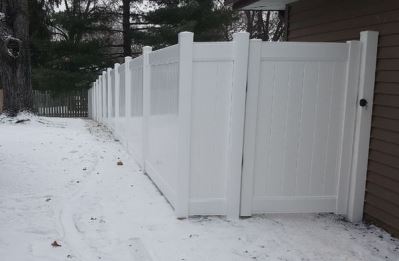 Looking for a 6' vinyl fence installer in the Minneapolis area? At Twin Cities Fence, we have the right tools, right materials and the right professionals to get the job done. With four generations of experience in vinyl fencing, our team of professionals can install your quality fence in both a timely and affordable manner. Infact, most of our fence installation projects are completed in one day without every tearing your yard up or using posts that rot over time. And yes…that is guaranteed! 6′ Vinyl Fence Installation video
The Durability of a Vinyl Fence
If you are looking for a fence that can withstand the cold temperatures of Minnesota during the winters and the hot, humid summer, vinyl fencing is a great choice. Vinyl fencing has become more and more popular as it's durability is proven winter after winter. Not only does it keep it's aesthetically pleasing appeal, it does not rot, blister, crack or split in the sun. Vinyl fencing also does not allow the growth of fungus and is virtually resistant to pests. It is a great option for those looking for a durable, reliable fence.
Privacy 6' Vinyl Fencing Commercial or Residential
A great option for those looking for a little bit more privacy is a 6' vinyl fence. Whether you are a business owner looking for a vinyl fence contractor, or just feeling a little too close to your neighbors, a privacy vinyl fence is a great choice that is both functional and appealing to the eyes. Vinyl fences are made to delineate property lines, as are most fences. However, a 6' vinyl fence can do so much more! Due to its larger size, your vinyl fence can provide shade on sunnier days while at the same time protect your home or business from strong winds that may come another day. It also can reduce noise going and out and coming in. Its durability goes unmatched, along with it's low-maintenance features!
Affordable Vinyl Fencing Installation Company
At Twin Cities Fence, we install 6' vinyl fences all year long, no matter how hot or cold it may be outside. We have experience and expertise at installing fences at both residential and commercial properties and we work diligently to finish every fencing job in a timely manner. We will listen to your fencing needs and wants, taking into consideration your functional needs as well as your aesthetic preferences. Every estimate we provide is free and under no obligation. We understand that a 6' vinyl fence is a big investment and we are here to meet your every needs.
Remember, most of our fence installation projects are completed in one day without every tearing your yard up or using posts that rot over time .For more information about having a vinyl fence installed, call Twin Cities Fence today at 612-443-1948. Contact us and get your free estimate today!