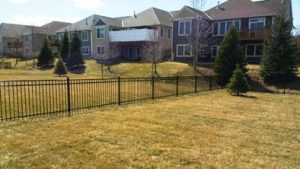 Twin Cities Fence is a trusted and reliable local fence contractor serving those in the Twin Cities, MN area for more than forty years. We work all 12 months of the year, providing high quality fence installation and repair so that our customers can be confident calling us any day or time. As a local fencing company, repeat customers are extremely important to us. We are passionate about our work and understand that we work in a highly competitive market. So, we work hard to set ourselves apart from the competition. Some of the extras offered by our team include:
Free estimates for both repair and installation work
24-hour emergency fence repair service
Wide variety of fencing materials for your new fence (or to repair your existing structure) including vinyl, cedar wood, steel ornamental fencing, aluminum, galvanized steel, color coated chain link fencing and privacy fences.
Commercial and residential fencing work
Experienced and knowledgeable team of contractors that can help you make the best decision about your fence given your needs, space and budget.
Expert installation of handrails, bumper guards and gates
Professional, courteous and friendly staff
Affordable pricing
Twin Cities Residential and Commercial Fence Installation
Our main service is residential and commercial fence installation. We can install fences specific to your unique property based on size, material and shape. Our ultimate goal is for each and every customer to be happy with our work, so you will find that we are open about pricing, timeline and work hard to listen and understand your goals for your fence. The Minnesota weather can be extreme, so we also try to inform our customers how the material they choose will perform over time so that you can evaluate your decision.
Local Fence Repair
We also understand that over time, fences will need to be repaired. You may notice that your fence has been damaged and schedule a convenient time for a repair. There are also times when you need your fence repaired as soon as possible, so we offer a 24-hour emergency repair service so that you can reach us anytime.
As a local company based in the Twin Cities, we work to earn your business. If you have been thinking about adding a fence to your residential or commercial property or have a fence that is no longer working properly, we hope you will call our team at Twin Cities Fence at 612-443-1948 to schedule a time for our crew to come out and give you a free estimate.