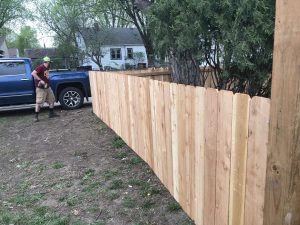 Twin Cities Fence provides high quality fence installation in the Twin Cities, MN. For more than four generations, we have been installing a variety of fences on residential and commercial properties in the Twin Cities. Fence installation is not a simple process, and if the task is not given proper attention, it becomes very easy to mess up the job. Twin Cities Fence installs every fence with care and precision. This allows your fence to last for years and years. A fence that is installed properly will provide its intended function for a very long time with little maintenance.
Residential and Commercial Fence Installation
Twin Cities Fence strives to be the best, most reliable fence installation company in the area. If you want your residential property to gain new appeal in the neighborhood, a new fence can give you the impact you are hoping for. If you want a small picket fence to add an accent to your property or a higher fence to provide added security, Twin Cities Fence can help you. If you own or manage a commercial property, a new fence may be exactly what you need to secure your fleet vehicles or divide work areas from your customer-facing areas.
Regardless of whether you are looking for fencing for a commercial or residential property, Twin Cities Fence offers a number of different materials for you to choose from.
Cedar fencing is a very popular choice, especially in the residential sector. Cedar is an extremely durable wood that can be configured to meet your needs.
Vinyl fencing is an economical way of providing privacy and is a great choice for creating a modern look to your property. Vinyl is also a good choice in that it is low maintenance.
Chain-link fencing is an excellent choice for fencing on a budget. Our chain-link material is zinc-coated galvanized steel, which stands up to the extremes of Minnesota weather while providing a strong boundary for your commercial or residential property. We also offer color-coated chain-link fencing, which is a zinc-coated galvanized steel fence with an added layer of colored PVC coating.
Steel Ornamental Fencing offers a more decorative fencing option for people interested in creating a more traditional look on their property.
Aluminum Ornamental Fencing is a durable option that resembles steel but is lower priced. It has the look of wrought-iron and is durable too.
Twin Cities Fence Installation Company
Because we are committed to our customers, we also offer 24-Hour Emergency Fence Repairs. If you have any questions about fence installation, call us at 612-443-1948 to speak with a member of our team.