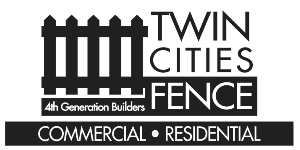 When you think of having a fence installed on your property, you may immediately envision an exterior white picket fence around a home or a farm, or a steel fence that surrounds a school or playground. However, in Minnesota, there are many properties that have the need for indoor fencing options. The contractors at Twin Cities Fence work all year round on local fence installation projects and we have extensive experience with indoor fence installation.
Materials For Indoor Fencing Jobs
We have worked with many different businesses on indoor fencing projects. Hotels, recreation facilities, workout facilities (gyms), commercial businesses and even homeowners have used our indoor fencing installation services. We offer a wide variety of materials for your indoor fence, depending on exactly what you need the indoor fence to do. We can install wood, vinyl, aluminum fences as well as chain link fences, steel fences and even trex fencing. Trex fencing has become a very popular option because it is eco-friendly, low-maintenance and durable. It looks like a wood or vinyl fence and comes in three colors: saddle Winchester gray or woodland brown. We can explain all of your indoor fence options and help you determine what will work best for your space and your budget.
Some Of The Most Common Needs For Indoor Fencing Include:
● Fencing for an indoor swimming pool
● Indoor sports courts
● Fences for gymnasiums
● Indoor dog kennel fencing
● Storage facility fencing
● Warehouse fencing
Safety, Security And Function For Your Indoor Fence
Another important feature of an indoor fence is the gate. After all, you likely are having the fence installed for a good reason and want to be sure that you have control over when it opens and closes. If you are looking for a gate that will ensure safety and security, we can help with that part of the decision as well. Our fence installation contractors are professional, courteous and experienced and will be able to answer your questions in addition to installing a strong, durable and functional fence. The other great thing about working with our team is that you will be supporting another local business and, if anything goes wrong with your fence down the road, we also complete fence repairs. Very few other companies can offer both indoor fence installation and indoor fencing repair. We stand behind our work and will always offer you the most affordable options for your needs.
For more information about our indoor fencing services, give Twin Cities Fence a call at 612-443-1948 and we will be happy to help you!