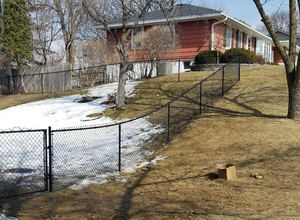 Galvanized chain-link fences feature a protective coating to increase their longevity, while vinyl-coated chain links feature plastic material added for visual appeal and corrosion resistance. Galvanization increases the lifespan of plain wire while vinyl enhances its aesthetic appearance.
Galvanization is the process of coating metal to make it stronger. Zinc is the most commonly used coating, and this process can be accomplished by immersing the metal in molten Zinc. A protective coating on steel will extend its service life significantly. Zinc-based coatings protect steel against corrosion, rust, and scratches; galvanized steel is more vulnerable to weathering and rust.
Galvanized Chain Link Fence?
Galvanized chain link mesh is strong and long-lasting, capable of lasting up to 20 years. Chain link can either be woven or welded; welded mesh being more reliable than woven mesh. Galvanizing the mesh before or after fabrication is also an option. Twin Cities Fence in Minnesota uses high-quality chain-link fencing material. Our technicians install mesh fencing in a range of gauges and heights from 26 inches tall to 14 feet high.
Manufacturers can apply a coating either before or after weaving the mesh for maximum durability. Galvanizing chain link will result in uneven wire and inferior durability compared to using plain wire, as the wire won't be uniform and won't last as long. The fence can also be covered with aluminum in addition to the usual coating. Aluminum has excellent corrosion-resistance, making it a great option for certain environments.
What Is A vinyl-Coated Chain-Link Fence?
Vinyl coated chain links give your fence style and strength. Galvanized wire and vinyl are the two best materials for creating this type of fencing; vinyl provides additional protection for the steel underneath. Chain link fences can also be enhanced with vinyl. Black vinyl coating is one example, making the wire virtually disappear in the landscape. Privacy shutters add another layer of visual interest and dimension to your Minnesota chain link fence. With so many slat options available – neutral, bright, or contrasting colors – there's sure to be a fence that suits your taste! Black, green, brown, and white are the most popular vinyl colors. Your fence can also be customized with various gauges or coating thicknesses for added protection.
Chain-Link Fencing Contractors In The Twin Cities
Minnesota is well-known for its blazing snow, ice storms, and extremely humid summers. Chain link fences can withstand the worst storms and are strong enough to withstand them. Chain link fences are very popular. Twin Cities Fence can help you decide if a chain-link fencing is right for your property. Twin Cities Fence is happy to discuss the options with you and look at your property. Contact us today by calling or using our online form!