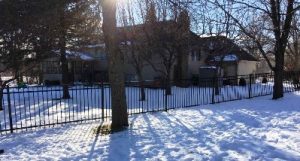 Are you considering installing a fence as part of your home improvement project? When it comes to fencing, the perfect time is now! Although there are some myths surrounding installing in winter, it can be an advantageous time for both budget and lifestyle reasons. So, what are the real advantages of installing your fence during this season? Here are a few things to keep in mind.
Less damage to the landscape: Your shrubs, trees and plants will typically become dormant during winter. With proper planning it is possible to prune back, relocate and protect your plants without long-term harm. Doing fence construction during this period allows for faster completion times while helping preserve landscaping.
Money savings: Spring and summer are the busiest seasons for fence contractors. On the contrary, winter is usually slower for fencing contractors and material providers. Some contractors offer discounts and better rates in winter to encourage them to fill their projects. You can save money by requesting installation services during off-peak periods.
Faster installation: Scheduling your fence installation for a time when the crew is less busy can save you valuable time on the project. There's also a good chance you'll have more people working on it, resulting in less disruption to your daily life from the fence contractor as they can install it quickly.
Fewer interruptions: You and your family will spend most of the winter indoors, unlike when it's sunny and warm outside. Your backyard may not get as much use during this time; contractors have more flexibility to finish work on schedule with winter installation. Plus, installing a fence during this season won't disrupt any outdoor activities you might have planned for yourself or your kids.
Safety and privacy: As winter began, shrubs and trees had lost their leaves. If you rely on plants for privacy in your yard, this can leave it looking bare. If you feel vulnerable during these cold months, installing a privacy fence is an ideal solution; it will keep pets inside while children play outside safely during this time of year.
Spring is the perfect time to enjoy your backyard: Your winter fence installation allows you to enjoy the warm sun on your yard, have some fun with your kids outdoors, and even host parties! With such a spacious space to play in, spring is one of the best seasons for yard enjoyment!
Twin Cities Fence offers professional fence installations to make your space both secure and attractive. With over 100 years of combined experience in fence design and construction, our team is sure to do a great job on your installation. Get in touch for your free estimate now!