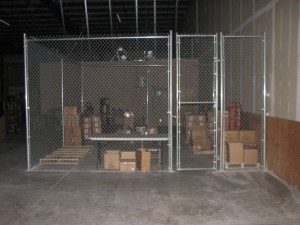 If you're searching for an indoor building fence contractor in Minnesota, it might be difficult to discern whether outdoor fencing is the same as indoor fencing and whether an outdoor fencing contractor can do what an indoor fencing contractor does. Luckily, with Twin Cities Fence, you don't have to worry about what we do or don't do – we do it all! As an outdoor and indoor fence installation and repair company, we've built our business around offering the best service and the most comprehensive services. That means building any kind of indoor fencing system you need, whether it be large or small, on a commercial, municipal or residential property, and with any material you choose. Based on your project, we can help you choose the best indoor fence to meet your needs, including helping you choose the best material, styles, designs and gates for your fence.
Choose from Our Varied Indoor Fence Materials
Though you might not think to use all of these materials inside, there are benefits to each material, including cost, durability, longevity and aesthetic, which you should consider when choosing your fencing material. Always keep in mind why you need an indoor fence and how it will be used when choosing your materials so that you can understand what you do and don't need in your fencing system. Our fencing materials include:
• Wood Fences
• Vinyl Fences
• Chain Link Fencing
• Aluminum Fencing
• Steel Fences
• Trex Fencing
Indoor Fencing Styles and Designs
If you've chosen the material you want for your fencing system, now it's time to decide what fencing style you need or want. Although not all of these will meet your needs, you may find that you still have several options you could choose from. And, with each fencing style, you'll have the freedom to make design choices for your fencing system that can make it look unique and match the character of your property. Fencing styles include:
• Wood and vinyl privacy fences
• Wood and vinyl post and rail fencing
• Wood and vinyl picket fences
• Galvanized steel chain link fences
• PVC chain link fencing
• Chain link fences with privacy screens
• Ornamental aluminum and steel fences
• Trex privacy fences
Fence Gate Installation
With each of our fencing systems, we install fence gates to match the fencing style and materials you choose, or you can opt for a fence gate that contrasts your fencing system. Whatever you choose, we have swing gates and sliding gates, including large chain link, aluminum and steel rolling gates and swing gates or small gates for any fencing type.
Now that you've found us, give Twin Cities Fence a call today at 612-443-1948 to start planning your indoor fencing system. Our MN indoor building fence contractors are happy to work with you to fashion the indoor fence you need and want and need, complete with any design additions or gates to make your indoor fence functional.