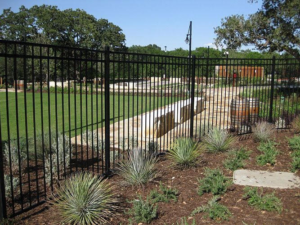 Aluminum fences are one of the most versatile fences you can choose. The material itself is strong, making it capable of holding up in Minnesota weather. It's durable, less likely to show wear and tear over the years. Lastly, it's completely maintenance-free! That's right, there's no daunting task of washing or staining aluminum fences. With all of these benefits, it's easy to see why you would choose an aluminum fence. So now here's the really hard choice. Who's going to install it? At Twin Cities Fence, we are an aluminum fence contractor near you that has over four generations of experience in aluminum fence installation.
Choosing Your Aluminum Fence Contractor
Aluminum fences can be used for both residential and commercial properties. Whether you are looking to use your fence for more functional purposes or as a cosmetic option, aluminum fences offer a variety of options. You can have a variety of options and styles, depending of course on the type of contractor you have. At Twin Cities Fence, we have a plethora of aluminum fences in all different sizes, shapes, and designs. Our experience in aluminum fence installation is matched with our quality craftsmanship and dedication to customer service.
Residential Aluminum Fences
Many Minnesota residents choose aluminum fences for their natural resilience to Minnesota's weather. There are many benefits to aluminum fencing for homeowners. Other uses include delineating property lines, security for the property, keeping children and pets inside the property, and some even use aluminum fences solely for their aesthetically pleasing look. No matter what type of aluminum fencing you choose, it will be sure to add value to your residential property.
Commercial Aluminum Fencing
When you choose an aluminum fence for your commercial property, it's important to choose a contractor that has experience in commercial aluminum fencing. This is to ensure you get a beautiful result that also serves its purpose functionally. Aluminum fences are commonly used commercially to enclose the property, limit access to restricted sections, or create designated spaces for parking lots, pathways, etc. There is so much that can be done with aluminum fencing as long as it's installed correctly.
For more information on an aluminum fence contractor in Minnesota, call Twin Cities Fence today. With a wealth of knowledge and experience that other competitors cannot touch, our team of professionals is ready to give you the aluminum fencing system that your property has been lacking. To schedule an estimate today, give Twin Cities Fence a call today at 612-443-1948.