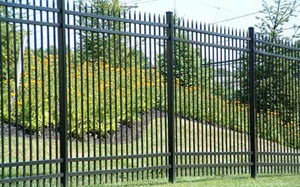 Fences are becoming more and more popular for homeowners. There are a lot of benefits when it comes to living in a neighborhood, but a lot of homeowners prefer to have some privacy on their property. There's no better way to create that needed privacy than investing in a fence for your MN home. Choosing the right fence for your property, however, shouldn't be a decision that you quickly make. If you invest in the right style fence, there is a good chance that you will add to the property value of your home with this home improvement project. At Twin Cities Fence, we find that investing in an ornamental fence provides the durability and protection of a standard fence, while also bringing some personality to the look of your property as well.
Fences with Style & Elegance
Investing in an ornamental fence from Twin Cities Fence will bring beauty, privacy and elegance all in one fell swoop. Your ornamental fence can be the perfect accent to the pool on your property. Rather than investing in a fence that could become an eyesore on your property, investing in an ornamental fence will help revitalize the look of your home. After installation, don't be surprised if a few neighbors stop by and ask how they can get one of their own!
Ornamental Fence Options
At Twin Cities Fence, we do not limit your MN property to only one ornamental fence option. Instead, we provide you with plenty of options. This will allow you to find the perfect material, color and style! Our most common ornamental fences that our clients choose include:
Ornamental Aluminum Fences – Aluminum is a very durable and long lasting fencing material. Choosing aluminum for your ornamental fence leaves you with plenty of style options depending on if you'd like something that is subtle or one that stands out. Achieve the look of a wrought iron fence at a fraction of the cost with an ornamental aluminum fence.
Ornamental Steel Fences – Another way to achieve the look of iron without having to deal with all of the maintenance is by investing in an ornamental steel fence. Galvanized steel is one of the strongest fencing materials on the market, so your ornamental steel fence will hold up great against the tough MN weather conditions throughout the year.
So, if you are in the market to find a reliable, unique and elegant fence that brings style to your MN property, our team at Twin Cities Fence has exactly what you've been looking for. Invest in one of our ornamental fence options today! To request a free estimate, give us a call at (612) 443-1948 and let us help bring more value to your property with an ornamental fence.