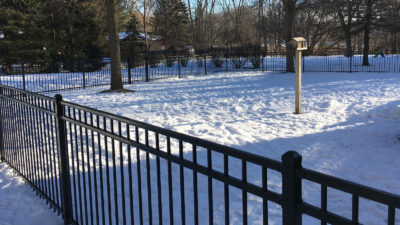 Many of us have spent more time at home than any other time in our lives. The COVID-19 pandemic has pushed us all to slow down a bit. Home improvement projects are on the rise and now is a great time to think about the exterior of your property as well. Twin Cities Fence has continued to work full time during the pandemic, completing full-service fence installation all over the state of Minnesota. A new fence can expand the use of your property, allowing you to enjoy the outdoors with more privacy, and allowing your pets and children to spend time outside safely.
Year-Round Fence Installation
Our crew has been operating at full capacity throughout the pandemic. We are now offering our services in a virtual format. We can speak to you by email or over the phone to discuss the specifics of the fence you are looking for and then offer you a variety of options with virtual estimates so that you will know the exact cost of each. We complete our work without ever entering your home and have done away with paperwork and the need for in person interaction. This is all part of our commitment to providing you with the best possible customer service in the business.
We install all types of fences, depending on your needs, the size of your property and your budget. Vinyl and aluminum fences are very popular in our area of the country as they can withstand the elements and require little maintenance. We can also install a traditional cedar wood fence, or a steel ornamental fence if you are looking for a specific look. We also install privacy fences, chain link fencing and can install a gate system if needed. It can be an overwhelming choice, but you can be confident knowing that we are here to answer any questions that you have and make sure that you are satisfied with your decision.
Minnesota Fence Contractor
As a local business, our success depends on our customers. So to really be a full-service fence installation company, we always work 12 months a year and also offer 24/7 emergency fence repair services, so you will never have to worry about your fencing once we finish the installation. We are truly your partner when it comes to fence installation and repair. For more information about our full service, safe fencing installation services, call us today at 612-443-1948 to receive a free quote.