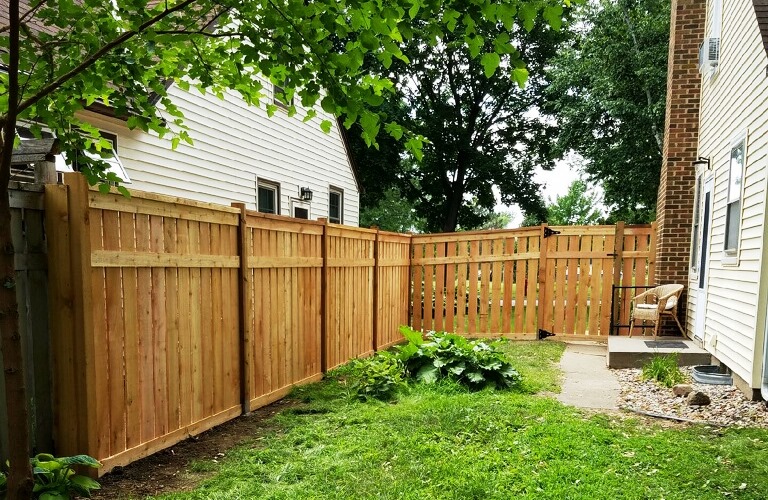 Do you love your property but wish you had a little more privacy from your neighbors? Do you have a dog that needs some space to move around each day? Well, if you are in the market for a new fence for your Andover, MN, you should highly consider a privacy fence. Our experienced fencing professionals at Twin Cities Fence proudly offer durable and affordable privacy fences for you to consider.
Choosing the Right Fence Installation Company
Before you dive too far into choosing the right privacy fence for your property, you need to first decide on the best fencing installation team to partner with. Our dedicated staff truly believes that there is no better installation team than our crew. As a family-owned fencing company that has been around for four generations, we place a strong emphasis on providing exceptional customer service to every single one of our clients. Whether you are looking for a residential or commercial privacy fence, we've got you covered from start to finish.
Privacy Fence Options
Regardless of the type of privacy fence you choose to go with, you'll quickly notice a reduction in noise, more shade and added protection for your property once our installation is completed. The great news is that our team offers multiple privacy fence options that you can consider. Choose from one of the following durable and affordable privacy fence options:
Privacy Wood Fences – If you'd like to go with a traditional look, you can't beat our privacy wood fences. Going with wood gives you plenty of customization ability and style options.
Privacy Vinyl Fences – The nice thing about a privacy vinyl fence is that you don't have to worry about your vinyl fence warping, corroding, rotting, rusting, etc. If minimal maintenance is your goal, this is the perfect privacy fence for you.
Chain Link Fence with Privacy Screens – If you'd prefer a chain link fence but still want some added privacy, we've got you covered. We can incorporate decorative polyethylene slats, which will add a tinted layer of privacy and protection.
If you are in need of added privacy and security around your residential or commercial property, investing in a privacy fence is ideal. If you are in the Andover, MN area, our team at Twin Cities Fence offers a free estimate on our durable and affordable privacy fences. To learn more or to schedule your free estimate, give our staff a call today at (612) 443-1948.