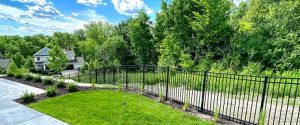 Have you been thinking about how nice it would be to fence in your backyard? Maybe you are looking for a safe place for your kids (and/or pets) to play, or maybe you want to be able to gather with friends privately, or just enjoy some quiet time on a cool fall day in peace. No matter what your reason for thinking about a fence, now is a great time to make that dream for your property a reality. Twin Cities Fence offers free estimates for all new fence installations in the Twin Cities area.
Fence Installation Services in the Twin Cities
Why do we offer free estimates? Well, our customers are our top priority and we have found over the nearly four decades in the fencing business that customers often assume fence installation is more expensive than it really is. We offer a wide variety of fencing materials for your new fence and can help you choose the best possible option for your property, your needs and your budget. When we work up an estimate, we find out from you exactly what you are looking for in a fence – privacy, security, a border for your property, or something else. Once we understand what you are looking for, we measure the property you want fenced and will make recommendations for options you can consider. We will be clear about pricing, so there are no surprises, and we never put pressure on you.
New Fence Installation Company
Some of the most popular residential and commercial fencing types we install in our area include Vinyl Fencing, Galvanized Steel Chain Link Fencing, Cedar Wood Fencing, Color-Coated Chain Link Fencing, Steel Ornamental Fencing and Aluminum Ornamental Fencing. Depending on exactly the look you are going for, we can talk to you about strength, durability, maintenance needs, weather resistance and even curb appeal.
Professional Grade Year-Round Fence Installation
We are one of the only local companies that offers year-round fence installation services. Minnesota weather can be extreme, and we are very used to working all twelve months on fence installation and repairs. Our crew is professional, friendly, knowledgeable and experienced and enjoys getting to know the families in our community. So, as fall approaches, it is a great time to think about finally installing that new fence on your property. We can answer the questions that you have and find a time to come out and provide you with a detailed estimate for both the cost and timeline. For a free new fence installation estimate, give us a call at 612-443-1948.