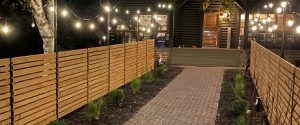 Adding a new fence to your property can add value to your home should you ever decide to sell it, but it also adds security, privacy and a brand new look. If you have decided to have a new fence installed this season, Twin Cities Fence can help. We install new fencing all year round for homeowners and business owners in the Twin Cities Metro area. We have over four decades of experience in the fencing industry and can help you determine the best fencing material for your specific needs.
New fence installations are some of the most exciting and rewarding projects that our team completes. A brand new fence can literally transform a property and give it added functionality and privacy. You can let the dog out at night before bed without a leash, you can let the kids go out to play while you are cooking dinner, or you can sit out with your favorite book on a beautiful fall morning.
Minnesota Fence Installation Contractors
Our contractors enjoy helping families plan the perfect size, shape and material for their new fence. We provide free estimates for all of our jobs so that our customers can get a real sense of the true cost and timeline for a project on their property. We install new fences to withstand the harsh weather of our state. Some of the most popular fence types include aluminum, chain link, steel, vinyl, trex fencing. These are all fairly low maintenance, which can be nice in our area where a fence will be exposed to the elements including snow, ice, wind, rain and intense sunlight all year round. We also install new, high-quality wood fencing as well and offer a hybrid fence option which uses steel posts to give you a stronger and more long-lasting fencing system.
Fencing Installation Services
When you work with Twin Cities Fence, you can be confident you will receive high-quality work and the best customer service in the business. This is what makes us stand out from other local fencing companies. We have built our success on customer satisfaction, affordable pricing and the ability to properly install fences quickly and efficiently. They are built to last – but, if you have a problem with a fence we installed (or one that someone else installed), we can also help you with fencing repairs.
Now is a great time to have a new fence installed on your property. Call us today at 612-443-1948 for more information.