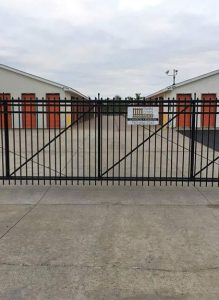 When most people think about fencing, they envision a wood fence surrounding a home. Residential fences are popular and very useful for security, privacy and keeping your kids and pets safe. However, homeowners are not the only ones that may need a fence. Many businesses need fencing installed on their property for many of the same reasons. If you are a local business owner and have been thinking about having a fence installed on your property, Twin Cities Fence can help.
Common Commercial Fencing Options
Twin Cities Fence can help you choose the perfect commercial fence for your business. We offer many different fencing materials to meet your needs including chain link fencing, commercial vinyl fencing, wooden fencing, and commercial aluminum and steel ornamental. Each fence type has its own benefits and drawbacks. For example, a vinyl privacy fence is ideal for adding safety and security to your property. This type of fencing is difficult to climb and will give your business an added layer of protection. A chain link fence is highly economical and probably the most common type of commercial fence material. It is highly versatile and can be color coated to suit your needs, and they can be installed in various weights and heights. It can also be coated with PVC to help combat corrosion and rust from the harsh Minnesota weather. Wood fencing adds a nice aesthetic appeal and provides the function of a fence but will look very welcoming to your guests. The bottom line is that our commercial fencing contractors can help you choose the best fence for your business' needs.
Year-Round Commercial Fence Contractors
Twin Cities Fence works twelve months a year to install fencing on commercial and residential properties. We have more than forty years of experience and, as a local business ourselves, we understand how important safety and security is to a business. We enjoy partnering with other Minnesota businesses to provide affordable and durable options so that you can feel confident about your investment. Our fences are installed with great care and will last for many years to come. If, at some point down the road, you have a concern about your commercial fence, you can call us back and we can take a look and complete any necessary repairs.
Now is a great time to consider installing a commercial fence on your property. Call Twin Cities Fence at 612-443-1948 to speak with a member of our team.