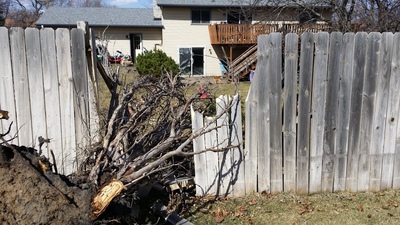 Looking for a fencing repair company in Minnetonka, Minnesota? At Twin Cities Fence, we have repaired every style, shape, material, and brand. Fencing is our specialty and year round repairs. For over four generations, Twin Cities Fence has been providing reliable and professional fence repairs in Minnetonka. We work on both residential and commercial properties, and no job is too big or small. Whether your gate has come loose or your fence has experienced some high-impact damage, Twin Cities Fence is here to get your fence back to working order.
24-Hour Emergency Fence Repairs
While some fences can be used for cosmetic purposes, most are placed with a functional purpose. So when that functional fence is weakened or is damaged, so is the function it serves. Unfortunately, Minnetonka has seen its fair share of weather. Snow, hail and wind storms have been known to knock down, damage, and even destroy older fences. This can be devastating for those trying to keep animals in or trying to keep a business private. For this reason, Twin Cities Fence offers 24 hour fencing repairs. We get to work fast so that your emergency can be quickly handled and your functionality can be restored.
Fencing Repair Maintenance
As with any investment, regular maintenance on a fence is recommended. This is especially true for fences that serve a multitude of purposes. If you are interested in scheduling regular fence "tune-ups" and repairs, Twin Cities Fence can provide that too. We will routinely check your fence for warping, rotting, corrosion, and any other warning signs of breakdown. This is especially crucial when your property, residential or commercial, is relying on your fence to be up and working. Catching potential problems before they reach a larger scale not only saves you money, it can save you a tremendous amount of time and stress.
Reliable Fence Repair Professionals
When you choose a fencing repair company to come onto your property and repair damage to your fence, you are trusting that company to do a good job. For inexperienced fence repair companies, that can be difficult. Whether it's understanding your type of fence or replacing a part with the right material, your fencing repair professionals should be knowledgeable in their line of work. At Twin Cities Fence, we live and breathe fences. We have worked with a variety of different brands and understand style and shape differences. When repairing your fence, we find materials that blend with the rest of your fence, leaving no eye sores anywhere on your fence line.
For more information on fencing repair in Minnetonka, MN, give Twin Cities Fence a call today at 612-443-1948.