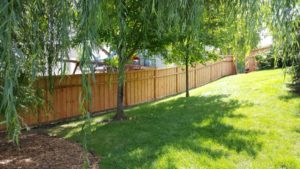 Twin Cities Fence is a fence-repair company that serves the communities of Oak Grove, Andover, and East Bethel, MN, among many others. Based in Andover, Minnesota, Twin Cities Fence has provided residential and commercial fencing installation and repair for more than forty years. The longevity enjoyed by Twin Cities Fence has been hard-won. Our staff has established a strong client base and the trust of our many customers by providing excellent customer service, high quality workmanship, affordable prices and a fast response time.
If you are a homeowner or business property owner, you know that a well constructed and aesthetically pleasing fence can add a great deal of actual value to your property. Fencing not only serves to denote separation of property, it also adds visual structure to our immediate world and provides security to our homes and businesses.
24/7 Commercial Or Residential Fence Repair
No matter what kind of material is used to construct a fence, and no matter who installs it, something inevitably will occur that will require repairs. Twin Cities Fence understands this and has kept ahead of industry standards by employing a 24-hour fence repair service. So if you have noticed that a combination of time and the harsh Minnesota elements have caused a problem in one or more parts of your fencing, Twin Cities Fence will be able to help you immediately, 24 hours a day. Minnesota weather is notorious, as you know. The cold and snow and ice of the winter months and the occasionally unyielding sun of the warmer months can create a lethal combination for anything that is exposed to those elements. Twin Cities Fence will respond immediately, if that is your wish, to fix whatever problem has arisen with your fence.
Our fence repair team can repair all types of fences including aluminum fences, chain link fences, steel, vinyl or even wood fences. We have the equipment and tools necessary to make any potential repairs and leave your fence stronger than before. We can also replace small (or large) sections of your fence if needed and will also leave alone areas of your fence that do not need repair. Our team understands that you have limited funds to spend on fence repair and we respect that and only make repairs that are necessary. If you are concerned about the strength of a fence on your property, call Twin Cities Fence at 612-443-1948.