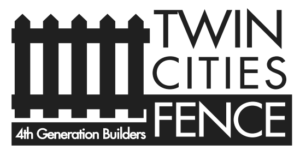 There are as many reasons for deciding to put a fence on your property as there are types of fences to choose from. Privacy, security, to divide property and keeping kids (and pets) safe are among the top reasons residents choose to add fences to their property. When it comes to choosing the best type of fence for your property, you must consider price, durability, size and the aesthetic quality. A chain link fence is one of the most popular fencing options, offering property owners a strong, durable fence that can withstand harsh Minnesota weather and an affordable price tag that keeps it from breaking the bank. If you look closely, you will see that these fences are all over the area, at schools, parks, homes and businesses. Twin Cities Fence can install and repair a wide variety of fences for residents and business owners in the Twin Cities area, including Oak Grove, Andover and East Bethel and specializes in chain link fencing repair projects.
Keep Your Chain Link Fence Working Properly
If you have a chain link fence on your property already, you know that generally, they require very little maintenance over time. However, if an area of the fence is damaged, the crew at Twin Cities Fence can generally fix the problem quickly and at a very low cost. You might notice, for example, that your chain link fence becomes bent or an area becomes rusty over time. Snow, ice, hail, rain and wild temperatures can, over time, break down areas of a chain link fence, even though these fences are widely regarded as extremely durable and strong. If extreme weather takes its toll on a fence on your property, know that our crew will respond immediately, with 24 hour emergency fence repair service.
Unlike many other fencing companies in the area, we focus on both fence installation AND fence repair. In other words, we spend as much time maintaining and repairing fences as we do building them. This means that you will not have a long wait when it comes to scheduling a repair and that our team has the equipment and experience necessary to complete a repair the first time, so that your fence is fully functional when we leave. You can then again feel confident leaving your pets outdoors and letting your children play outside again, knowing that they are safe and protected by your chain link fence. For more information about fence repair services or to speak with a member of our customer service team, call 612-443-1948