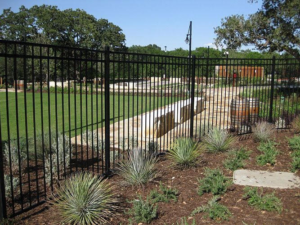 Twin Cities Fence is a highly regarded fencing contractor that serves the communities of Blaine, Coon Rapids, Andover, Ham Lake, Lino Lakes, Circle Pines, Stacy, Forest Lake, and many other communities in Minnesota. One of the many services offered by Twin Cities Fence is the installation of Ornamental Aluminum Fences. If you own a home or a business and are looking to add an accent that will beautify the property, an ornamental aluminum fence may be exactly what you are looking for. When you contract with Twin Cities Fence to install an ornamental aluminum fence, you can be assured that it will be installed properly, guaranteeing years of functional enjoyment. The aluminum fencing installed by Twin Cities Fence is not only visually appealing, but also is a durable material that will stand up to the harsh extremes of Minnesota's weather.
Benefits of Choosing an Aluminum Fence
Aluminum fences give you the look of a wrought iron fence, but are much more durable, strong and lasts longer. Aluminum fences will not rust like iron fences and require little or no maintenance over time, making them simply delineate property lines, protect your property, enclose children and pets, or create an "olden day" aesthetic appearance that can set your home apart from the rest. Unique and beautiful design elements can easily be incorporated into an aluminum fence – which can really make a statement and allow your property to stand out. We offer spear top and staggered spear top styles, universal top (flat top) and universal spear top selections, and even picket style aluminum fences, just to name a few.
The cold and snow and ice of the winter months and the occasionally unyielding sun of the warmer months can create a lethal combination for anything that is exposed to those elements. An ornamental aluminum fence can withstand the brutality of this weather and last for many years with little, if any, maintenance. Ornamental aluminum fences combine high functionality and beauty to give you a fence that will do its job and look good on your property.
Fencing Installation and Repair
Twin Cities Fence is based in Blaine, MN, so you know you're getting the benefit of a local business serving its nearby communities. Further, Twin Cities Fence has in the fencing business for more than four generations. Fencing delineates property, but ornamental aluminum fences make a statement. Twin Cities Fence installs new fencing to private homes and public business, and your home or business will stand out with a stylish ornamental fence.
In addition to fencing installation, Twin Cities Fence offers a 24-hour repair service for those with whom they have contracts. This is not necessarily a feature that other fence-installation companies offer. If the elements have combined with the passage of time and damaged your fence, Twin Cities Fence promises to help you get it fixed immediately. Call us at 612-443-1948 for more information.