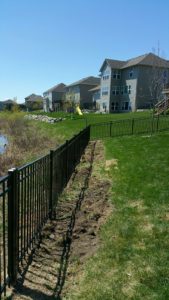 If you're looking for a new fencing system for your property, whether it be your home or business, Twin Cities Fence offers a wide range of fencing materials and styles, perfect for every need. For a St. Paul, MN fencing installation contractor you can trust to provide you with great service and great prices, Twin Cities Fence more than fits the bill. We offer wood fencing, vinyl fences, aluminum and steel ornamental fences, chain link fences, farm fencing, and more!
Steel and Aluminum Ornamental Fencing
Aluminum and steel ornamental fencing is perfect for any property, adding security and style to your home or business. Steel fencing offers a look most closely resembling wrought iron fencing, making it a perfect choice for anyone looking for a strong and intricately designed fencing system. Our aluminum fencing is built to be a longer-lasting ornamental fencing, coated for durability and to prevent corrosion and weathering.
Farm Fencing Installation
Whether you're living on a farm or not, farm fencing can be a useful boundary marker to outline property lines or create small barriers or pathways on your property. We offer wooden split rail fencing and vinyl post and rail fencing installation, perfect for livestock fencing to keep livestock on your property and trespassers out, or a rustic fencing system to accent your home or business.
Wood and Vinyl Picket Fence Installation
With Twin Cities Fence, you have some flexibility when you choose to install a picket fence on your property. We offer both vinyl and wood picket fencing installations, offering a variety of designs and styles to complement your home or business. Installing a wood or vinyl picket fence on your property will give your home or business a traditional aesthetic, complementing most contemporary architectural designs.
Chain Link Fencing Installer
Chain link fencing can be a useful residential or commercial fencing system; providing security and boundary markers; keeping areas off limits; and keeping children, pets and anyone on your property safe and out of off-limits areas. We offer both galvanized steel chain link fencing, hot-dipped in zinc for improved durability, and PVC color-coated galvanized steel chain link fencing, an even more durable chain link fencing system. Color-coated chain link fences offer a dual layer of protection from weather and corrosion, ensuring that you're investing in a long-lasting fencing system.
St. Paul Privacy Fencing
If you're looking for some added privacy on your property, Twin Cities Fence can offer you several materials and styles to choose from, including intricately designed lattice privacy fences. We install wood privacy fencing, vinyl privacy fences, and even screened chain link fencing, a makeshift privacy fence. Privacy fences are useful in reducing noise pollution in areas where properties are close together, providing a physical and visual barrier for security and privacy, and creating off-limits areas on your property. To learn more about our St. Paul, Minnesota fencing installation options, contact us at 612-443-1948 or contact@tcfmn.com.