In the commercial industry, how do you know that the equipment, goods and other belongings on your property are safe after you close up for the day? Unfortunately, even in a great community like Minneapolis, we can't trust everyone. Leaving your commercial equipment unattended could lead to things going missing. At Twin Cities Fence, we have an affordable solution. We are a fence installation company serving Minneapolis with secure gated fences. Investing in one of our top of the line gated fences will give you that peace of mind while you're away from the business that everything is safe and secure.
The Twin Cities Fence Family
Our team takes pride in the fact that we've been around for over 4 decades as a family owned fencing contractor. Specializing in both residential and commercial fencing, there is no fencing project that we'll shy away from. One of the most fulfilling aspects of our business is helping protect local Minneapolis businesses with our gated fence options. Not only do you receive top of the line gate installation services, but you'll also receive the best customer service around. We'll take your input seriously and keep you in the loop throughout the entire project. To top it off, we offer 24 hour emergency service, so if your gate begins to malfunction, just let us know and we'll be there in a jiffy!
Professional Gate Installation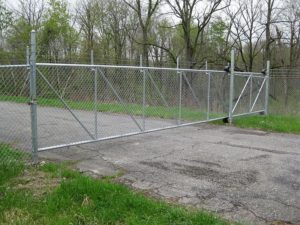 Whether you are trying to match your gate with a vinyl, aluminum, steel, wooden, galvanized or color coated fence, we've got you covered. Most commonly, we install the following gate systems that have proven time and time again to be effective:
Chain Link Roller Gate – Across the commercial industry, chain link fences are very popular. A roller gate gives you quick access in and out of your property. Additionally, these types of gates provide extra security for your property and can also cover a lot more space than a swinging gate.
Swing Gate – If you are on a smaller property, you may not need a roller gate and can invest in a swing gate instead. This still provides protection and security for your property as you can easily lock this type of gate down with a secure lock.
So, if you are ready to implement more protection around your commercial property in Minneapolis, our gated fence installation team at Twin Cities Fence is eager to help. Give us a call today at (612) 443-1948 and we'll get to work on your gate installation needs!