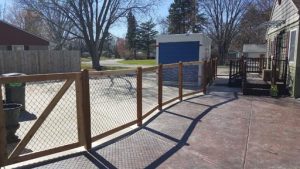 During this extraordinary time, we are all facing challenges related to the COVID-19 pandemic. Many of us have been asked to shelter in place, practice social distancing and work from home in order to slow the spread of this disease. While some local businesses have been forced to close during this time, Twin Cities Fence has been able to stay open offering our community full-service fence installations. We have changed some of our practices to protect our customers and would welcome your business if you have decided you would like to add a fence to your property this spring.
Virtual Customer Service and High-Quality Fence Installation
Twin Cities Fence has built its reputation for a trusted and experienced local fence installation company because we value our customers and complete high-quality fence installation. Nothing about our service changes during this time. We have put safeguards in place in order to provide the quality and service you are used to, without exposing our team or our customers to danger. We have moved to a virtual model for all of our client communication. We can provide you with an estimate and a full installation without close contact. We can complete the process with no paperwork and no in person meetings, unless you request this. We understand that this is an uncertain time and we will work hard to make sure that you are completely satisfied with our work, while never compromising on safety.
Residential and Commercial Fence Installation in Andover, MN
Our fence installation team can install many different kinds of fences, depending on your needs and the look you are going for. We specialize in vinyl, cedar wood, galvanized steel chain link fencing, color-coated chain link fencing, color-coated chain link fencing, and aluminum ornamental fencing. We can complete residential and commercial fencing installation all over the Andover, MN area. We use only the highest quality materials so that you can be confident that your new fence will withstand the unpredictable Minnesota weather for many years to come.
Twin Cities Fence has been in business for more than forty years and looks forward to serving you during the COVID-19 pandemic and beyond. We remain open, able to answer questions virtually to help you decide what materials to use, and as always will stand behind our work. You can trust our team to be reliable, professional and safe. For more information or to speak with a member of our team, call us at 612-443-1948.