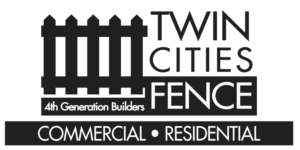 No matter where you live or what type of work you do, if you have a yard there is always room for a fence. At Twin Cities Fence, we serve areas all over Minnesota. We offer a variety of options for both residential and commercial purposes. If you are looking for a fence installation company . in the Forest Lake, East Bethal, Bethal, or Pine City, MN area, look no further that Twin Cities Fence.
Residential and Commercial Fence Systems
Whether you are looking for a fence for your home or looking for something for your commercial property, Twin Cities Fence has all different options for you to choose from. If you are telling us what you are looking for, we can help you narrow it down. Offering different materials in different sizes, shapes, and designs, we aim to meet your every need. Below is a list of a few of our most popular fence options:
● Aluminum Fence: This type of fencing system is popular in both residential and commercial properties. It offers a pleasing aesthetic appeal with easy visibility right through it. Aluminum fences are a great way to enclose children and pets onto your property, while still giving your property protection and clean lines.
● Chain Link Fence: While most people think of a prison when they hear chain link fence, our customers are delightfully surprised when they see how attractive they can actually be. With the right installation company and materials, you can gain the advantages that a chain link fence has to offer, while also keeping your property attractive. This fence is durable, affordable, and can offer protection and privacy.
● Vinyl Fence: The vinyl fence is the perfect option for those wanting more privacy. Whether it is your home or business, vinyl fences offer the security of the other two fences while also adding privacy. Additionally, vinyl fences require a lot less maintenance. There is no warping, rotting, or decaying with vinyl as it is made with PVC and will be built to last.
Other types of fence service options we offer include commercial fences, privacy fences, steel fences, wood fences, farm and ranch fencing, bumper guards, fence gates, and handrails.
Twin Cities Fence has been serving the Forest Lake, East Bethal, Bethal, and Pine City, MN areas for four generations and we have no plan on stopping anytime soon. We are a fence installation company in Minnesota that you can always count on. To speak with one of our professionals, call Twin Cities Fence today at 612-443-1948.