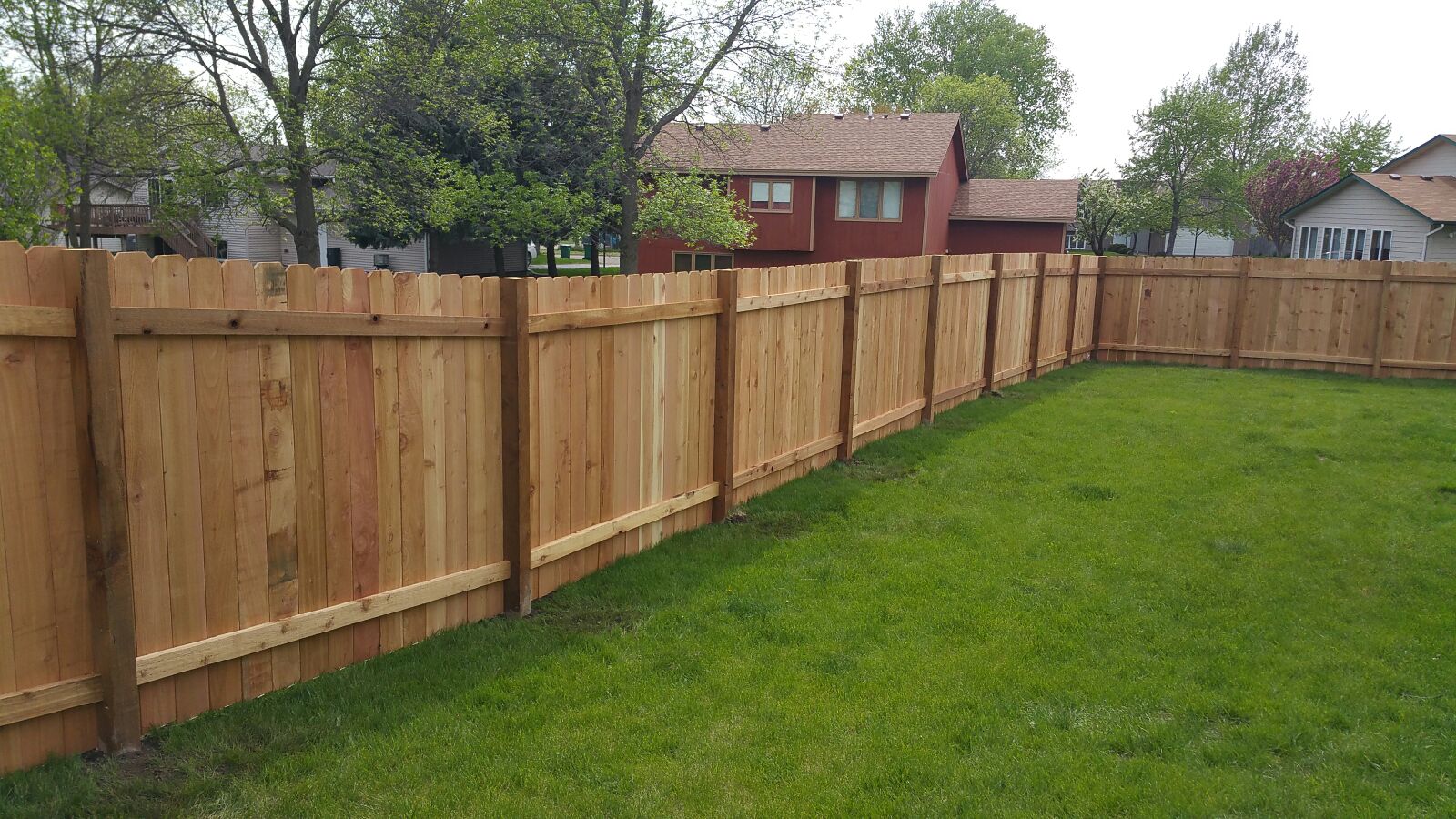 When you're looking to install a new fence on your property, it's important to consider all of your options, from the materials to the style of fencing. Whether you're in need of a fencing system for your home or business, Twin Cities Fence can help you choose the right fencing for your property. As Blaine, MN fencing contractors committed to providing a wide range of fencing installation services, we install a slew of fencing materials and styles to meet every fencing need, from wooden farm fencing to vinyl privacy fences, chain link fencing to aluminum and steel ornamental fencing.
Wooden Fencing – We can install wooden picket fences, split rail fencing, wooden privacy fences, and steel-enforced wooden post fences for added durability and strength. If you're in the market for a wooden fence, no matter your needs, we have the right wooden fencing system for you with a selection of designs and styles.
Chain Link Fencing – Galvanized steel chain link fencing is popular on commercial properties for security and delineating property lines, but it's also useful on residential properties for added security to keep your pets and children safe at home. We also offer color-coated chain link fences for added weather resistance and longevity, with several color options to choose from to complement your property.
Vinyl Fences – Vinyl fencing has become a functional and stylish fencing material used to complement modern home designs. Vinyl privacy fencing, vinyl picket fences, and vinyl post and rail fencing are all available at Twin Cities Fence to give your home or business a contemporary style.
Steel Ornamental Fencing – Steel ornamental fences are both functional and decorative additions to any property, often used as a secure boundary around properties with limited access, such as yards, residential and public pools, hotels, amusement parks, and housing developments.
Aluminum Ornamental Fences – A more affordable material than steel, aluminum ornamental fences are the perfect functional, decorative, and economical fencing system. Our aluminum fencing is coated for increased longevity and durability, ensuring that it's resistant to corrosive weathering.
Privacy Fences – Privacy fencing is popular in residential areas where homes are built close together, or on business properties, in areas with restricted access. We install both wooden privacy fencing and vinyl privacy fences, popular solutions to noise pollution, creating shade, and creating a visual barrier around properties. We also offer chain link fencing screens, which act as visual barriers to create chain link privacy fences.
Farm Fencing – Split rail farm fencing has been used for centuries to keep livestock secure, and they're still used today to delineate property lines and keep livestock in and trespassers out. Post and rail fencing, or split rail fences, can be installed using vinyl or wood, adding a rustic style to any property, whether it's your farm, your home, or your business.
Experienced Blaine, MN Fencing Contractor
Our Blaine, Minnesota fencing contractors will make sure that you get exactly the fencing system you want and need for your home or business. To learn more about our fencing materials and styles, contact Twin Cities Fence at 612-443-1948 or contact@tcfmn.com, and begin the fencing installation process with a free estimate today.