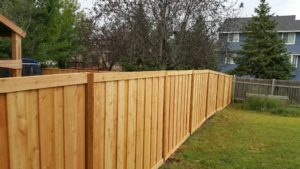 If you are looking for a reliable Fence Installation Company in Andover, Minnesota, look no further than Twin Cities Fence. Whether you are looking for a fencing system for your home or business we can help. You dream it, and we can build it: Vinyl Fences, Cedar Wood Fence, Steel Ornamental, Aluminum Ornamental, Privacy Fences, Gate Systems, Wrought Iron Handrails, Bumper Guards, and Guardrail Installation. You will find us easy to work with; your fencing project will be handled with care, and due to our great communication we guarantee the project will be  customized just for you. Your fence will be made with the highest quality materials, and we can help you with small repairs, to commercial fencing projects, no job is either too small nor too big. We offer free estimates for repair and installation work and promise, 24-hour emergency repair service to home and business owners.
Fence Installation Andover MN
Wooden Fencing – a top choice amongst homeowners, wooden fences can add visual appeal to your property. A wood fence can be designed with much detail to suit your need, and can also be used as a privacy fence. We can offer picket fences, split rail fencing, and steel-reinforced wooden post fences. Both durable and affordable, you can increase your home's curb appeal and its property value.
Vinyl Fences– Vinyl Fences are a long lasting, low maintenance fencing product. Twin Cities Fence offers a variety of Vinyl Fence including Vinyl privacy fencing, vinyl picket fences, and vinyl post and rail fencing. Vinyl Fence is strong, easy to clean, flexible to prevent snap or break, rust free and very low maintenance.
Chain Link Fencing –  Chain link fences are a popular option for a wide array of locations, including playgrounds, sports fields, back yards and even industrial areas. This is due to the versatility and affordability of the material.  Chain link fences offer stability by the steel posts that are anchored with cement into the ground.
Steel Ornamental Fencing – Steel ornamental fences are not only visually appealing, but also offer functionality. They are often used to secure boundaries around properties with limited access, such as yards, residential and public pools, hotels, amusement parks, and housing developments.
Aluminum Ornamental Fences – Aluminum is a more affordable material than steel, and still offer the same decorative and function that steel does. Our aluminum fencing is coated for increased longevity and durability, ensuring that it's resistant to corrosive weathering.
Farm Fencing – Split rail farm fencing has been promising throughout time to keep livestock secure, and to define property lines. Post and rail fencing, or split rail fences, can be installed using vinyl or wood, adding a rustic style to any property, whether it's your farm, your home, or your business.
To hear more about our fencing installation and to talk about your specific needs, call us at 612-443-1948.