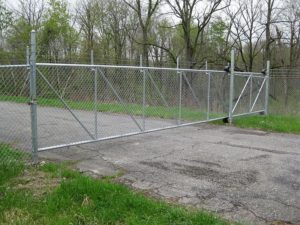 At Twin Cities Fence, we offer a wide range of fencing installation materials, from chain link fencing to aluminum ornamental fencing, customizing each fencing system down to the gates we install. Each fencing system is different, from the materials to the design, and every fence gate we install is just as important in determining the design and security of your fencing system as the fence itself. Often times, the materials you use for a fencing installation will depend on the fence gate you're looking to install. At Twin Cities Fence, our Andover, MN fence gate installation experts will help you choose the right fencing and gate system for your aesthetic and security needs.
Chain Link Swing Gates
Chain link swing gates are often used to provide easy access to an area surrounded by chain link fencing. Often used in back yards to keep pets and children safely at home, or on commercial properties to allow access to restricted areas, chain link swing gates can easily be locked and opened, making them a simple and affordable fence gate system.
Chain Link Roller Gates
If you're looking for a more secure chain link fence gate that will serve as a means of keeping your property safe and preventing trespassing, a chain link roller gate may be exactly what you need. These gates are often used to close off large entrances to commercial properties, limiting vehicle access and providing a barrier against trespassers.
Aluminum and Steel Fence Gates
If you have a steel or aluminum fence on your property that needs to be finished off with a gate, Twin Cities Fence can install steel and aluminum swing gates, perfect for commercial and residential fencing. These aluminum and steel swing gates can be easily accessible or provide an added measure of security, especially as they are difficult fences to climb and can be fitted with a variety of locking mechanisms to meet your needs. These fence gates are often seen surrounding pools, hotels, and amusement parks, sometimes with keycard or key-in access only. Steel and aluminum swing gates can also be used as drive-in access points at the end of a driveway, though we also install steel and aluminum roller gates for this purpose, which function as an effective means of maintaining property security.
PVC and Wood Fence Gates
Although wood and vinyl fence gates are often used to finish off a fencing system, if you're in need of a wood or vinyl gate replacement, or you're looking to add a gate to a fenced area, we'll install both PVC and wood swing gates. We install wood and PVC gates that complement the fencing systems we install, which means that we have privacy fencing gates, picket fence gates, post and rail gates, and decorative swing gates. To learn more about the fence gates we have to offer, or to receive a free estimate for our Andover, Minnesota fence gate installation services, contact Twin Cities Fence today at 612-443-1948 or contact@tcfmn.com.