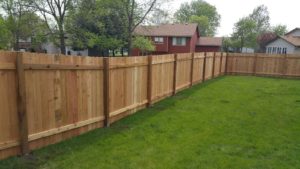 When you're looking for a little extra privacy on your property, whether you're running a business or you're just in need of some boundaries between you and your neighbors' homes, there's a privacy fence out there to meet your needs. As an Anoka, MN privacy fence installation company, Twin Cities Fence can offer you a wide range of privacy fences for your home or business with a selection of privacy fencing materials and designs to choose from. To be sure you get exactly the fencing system you need to shelter your yard from your neighbors' view, fence off restricted areas of your business, create shade on your property, or act as a sound barrier, we'll help you choose the perfect privacy fencing system to meet all of your needs and complement your property.
Vinyl Privacy Fences
We install vinyl privacy fencing, offering a more contemporary fencing system that complements many modern homes' aesthetics. With a vinyl privacy fence, you can have the option of a plain privacy fence with some customizable features like the shape of your posts, or you can invest in our more ornamental privacy fences. We offer lattice vinyl privacy fencing, which can give your privacy fencing system just the right amount of style to accent your home and ensure that your fence is more than a barrier. With vinyl privacy fencing, you can be sure that your fence won't corrode or become discolored, lasting for years without warping due to weather damage or falling victim to rot, as wood can.
Customizable Wooden Privacy Fencing
Wood privacy fences are often the perfect solution for anyone looking for a highly affordable privacy fencing system. Wood privacy fences can be used on commercial or residential properties, perfect for blocking off access to restricted areas on business properties, creating shade in the back yard, and keeping the wind from blowing through your property. Wooden fencing is often used commercially for large privacy fencing jobs, bordering amusement parks, for example, as it's the most affordable and secure privacy fence material.
Privacy Screened Chain Link Fences
The final privacy fencing we offer is chain link privacy screened fencing. Although chain link fences are not private by themselves, with our colored privacy screens, we can easily turn an ordinary chain link fence into a chain link privacy fence. Chain link fences are extremely durable fencing systems, especially the color-coated chain link fences, which are layered with a PVC coating to ensure the galvanized steel fence is protected as much as possible. Privacy chain link fences can be used to outline your home or to fence off secure areas on business properties, promising a durable privacy fence that will provide a visual barrier, though it will not act as a sound barrier, as other privacy fence materials would. Contact Twin Cities Fence today at 612-443-1948 or contact@tcfmn.com, and get a free estimate for an Anoka, Minnesota privacy fence installation of wood, vinyl, or chain link privacy fencing systems.