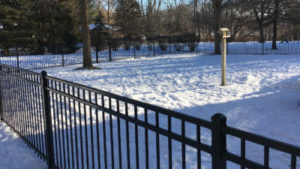 Twin Cities Fence is a Minnesota family owned fence contractor located in Blaine, Minnesota. We offer premium quality materials and craftsmanship for all your fencing needs. We separate ourselves from the competition by using the highest quality materials and utilizing 4 generations of fencing experience. We are always researching new and innovative ways to provide our customers with a product that they will enjoy for years to come. We have the knowledge and the expertise to complete the job in a manner that sets us apart from our competition. We are not happy unless you are and that is why we work with our customers every step of the way, and even after your fence, guard rail or gate is installed to provide repairs.
Fence Repairs
Working in this business we understand that hard work and attention to detail are the keys to ensure that each and everyone of our clients is satisfied. We take pride and ownership in all of our work and it is imperative to us to have a collaborative relationship with all the clients we work with. We provide 24 hour emergency fence repairs. We want to promise our clients that if they rely on their fence for security purposes, farming, business or whatever it may be, that we are here to make sure that they will have their fence up and running if anything happens.
Fence Contractor
Above and beyond our true Minnesota sense of doing business, you can rest assured that we are licensed and insured. The job will get done correctly and provide lasting enjoyment for years to come. We install a variety of different fences, so that no matter what you have in mind we can do for you. We also provide services to install handrails and gates. We work with a variety of products including Vinyl, Cedar Wood, Galvanized Steel Chain Link, Color Coated Chain Link Fencing, Steel Ornamental Fencing, Aluminum Fencing and help provide fencing for industrial buildings, business, homes and ranches/farms
Whatever you fencing needs may be Twin Cities Fence is a great fencing contractor that is here for you. We provide services for Minnetonka, Minnesota and only provide the best service. It is our commitment to provide a service that exceeds your expectations. We only use top quality materials and do not believe in cutting corners to lower our material costs in order to be awarded the job. At Twin Cities Fence, it is not just about getting the job done, but building lasting impressions and relationships.