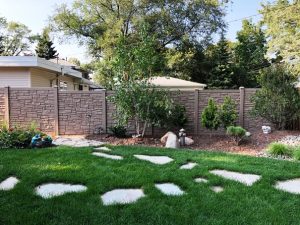 At Twin Cities Fence, we have been building and installing sturdy, reliable, beautiful fences in Minnesota for over four generations. It is safe to say that we know all there is to know about fence installation, fencing repairs and fencing materials. Trex fencing material is a type of fencing material introduced to the market in 2005. And we are the most experienced Trex Fencing contractor in MN. It easily meets the demand for a more durable and more natural looking alternative to vinyl, however, it still meets all the criteria for being a low maintenance fence. Not everyone can install Trex fences. You must be certified. Fortunately, our team of professionals here at Twin Cities Fence are Trex fencing certified contractors ready to get to work.
What Is Trex Fencing Composed Of?
When any property owner is choosing their fencing material, we walk them through the pros and cons of each material. Our knowledgeable staff can help answer any specific questions you may have in regard to which material is best suited for you. For those looking at Trex fencing, our most common question asked always has something to do with how it is made. Trex fencing is not wood or vinyl. Instead, it is composed of 95% recycled board. The other 5% include a mixture of plastic and wood fibers. For this reason, not only is it made out of durable materials that are built to last, it is also certainly a "go green" alternative for your property.
Benefits Of Trex Fencing
Trex fencing is obviously eco-friendly. However, don't expect this fence to decompose quickly. Trex fencing is known for being one of the most durable fences out on the market. This is especially important to our ever-changing, volatile climate in Minnesota. With Trex fencing, there is no bending, rotting, or warping like you can see in other materials. It is made of pure quality and built to last for many, many years. It is not susceptible to rot or insects and requires no sanding, staining, or painting. In fact, your entire Trex fencing system will have very little maintenance altogether. Should dirt or grime ever start to get onto your fence, simply power wash your fence and restore it back to its original beauty.
At Twin Cities Fence, we offer several different Trex fencing colors. Our most popular include a saddle color, evoking the rustic wood fence look, the Winchester Gray color, eventually fading to a beautiful light gray, and then the Woodland Brown color, the darkest of the three but equally beautiful. No matter what color you choose for Trex fencing, the quality of your installation will never be compromised. For more information about our Trex fencing installation company in Minnesota, give us a call today. Contact Twin Cities Fence today at (612) 442-1948 and get your free estimate today.