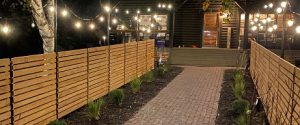 Installing a fence around your property offers many benefits to you, the current homeowner, as well as future potential buyers for your home if you ever decide to sell. If you're thinking about having a fence added to your home, you probably have some questions. Call the pros at Twin Cities Fence to find out the answers to these questions and more before you start your fencing project. You are Increasing property value with a fence
Benefits Of A Professionally Installed Fence
In addition to increasing property value with a fence, putting a fence around your property has many benefits, such as:
● Safety – Speaking of busy streets, keep your children and family safe inside a fence. Have peace of mind knowing that children won't run out in the road.
● Security – A fence adds security to your property to protect things in your backyard like your grill and patio furniture, while an added gate at the front of your property allows you to control what vehicles can enter.
● Privacy – A taller fence can help your property feel more private, especially if you have close neighbors or live on a busy thoroughfare.
● Convenience – If you have dogs or cats, a fence makes it easy to let them out in the yard without having to worry about them running away or running out into the street.
● Curb Appeal – Adding a fence to the front of your home, such as a white picket fence or an ornamental metal fence can add instant curb appeal.
Best Type Of Fencing To Increase Property Value
If you're trying to get the most out of your investment, here are the best types of fences to add:
● Wood – One of the least expensive of all fencing materials besides chain link, but has much better aesthetics than chain link fencing, and it offers privacy.
● Vinyl – Offers privacy, is low maintenance, doesn't need to be treated or finished like wood, and it holds up well in many different weather conditions.
● Aluminum – If you want the look of wrought iron for less, aluminum is ideal. It is resistant to rust and low maintenance.
Year-Round Fence Installation As Value
Minnesota weather can be extreme, but the team at Twin Cities Fence is used to working on fence installation and repairs year-round. Regardless of the time of year, it is a great time to think about finally installing that new fence on your property. Our professional installers can answer questions or find a time to come out and provide you with a detailed estimate for both the cost and timeline. Call us today at (612) 443-1948.