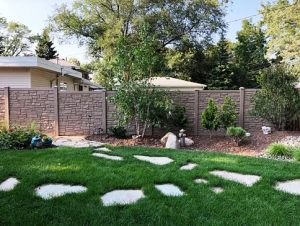 If you are considering adding a fence to your property, you have many different options to choose from when it comes to fencing material. One type that is gaining popularity is Trex Fencing. Trex fencing is durable, strong, weather-proof and environmentally friendly, made of 95% recycled board, including recycled plastic and wood fibers. Installing a Trex fence on your commercial or residential property is an eco-friendly alternative to wood or vinyl fencing. Twin Cities Fence specializes in Trex Fencing installation and can help you design the perfect fence for your needs.
Why Should I Consider Trex Fencing?
Trex fencing has many benefits. In addition to being environmentally friendly, it is extremely durable and comes with a guarantee that it will last 25 years on a residential property and 10 years on a commercial property. You will be covered for that amount of time, but you can expect a Trex fence to last much longer. Trex fencing requires very little maintenance so you can have it installed and not worry about costly repairs down the road. This fencing option is built to be able to withstand all of the weather that Minnesota sees including snow, ice, rain and wind. You will not have to worry about rotting wood, a warped fence, or rust developing on your fencing system. Dirt washes right off this material with a quick power wash.
In addition, deciding to install a Trex fence does not mean that you have to compromise on the look that you want. Trex fencing comes in a variety of colors – and you can choose the look you want for your property. We offer saddle (which looks similar to a wood fence), winchester gray (which looks great with brick and/or modern homes) and woodland brown (our darkest option). You will never have to worry about painting your fence!
Experienced Fencing Contractor In Minnesota
Twin Cities Fence has been installing fences in the Twin Cities area for more than four decades. We understand what works and what does not in Minnesota (based on the weather) and are happy to help our customers find the right fence for your needs. We can come to your property, measure and provide you with a free estimate. We use only high-quality materials, stand behind our work and offer affordable pricing. For more information about eco-friendly Trex fencing or other fencing options, give us a call at 612-443-1948.